BlackBerry Storm2 Review
The original BlackBerry Storm failed to sweep through the smartphone sector in the way RIM had hoped it would, criticized for its frustrating SurePress touchscreen technology, glitchy firmware and – most damningly – not being all that hot at messaging. With the BlackBerry Storm2 9550, RIM claim to have not only addressed all of those elements but more, and so it's with the mildest of trepidation that we've been playing with the new smartphone. Breath of fresh air or an ill wind that blows no good? Read on for the SlashGear review.
Much of the Storm2 is the same as you find in its first-gen predecessor, though thankfully none of the particularly contentious aspects are left unchanged. The Storm2 has the same 4.4 x 2.4 x 0.5 inch dimensions as before, and tips the scales at 5.6oz, but the casing is altogether more streamlined thanks to a switch to touch-sensitive keys underneath the screen and reduced gaps between the LCD and the bezel. There are other less-visible changes, such as the speaker moving from the back to the base of the Storm2, making for louder, clearer speakerphone use, and the battery compartment having a less fiddly latching system.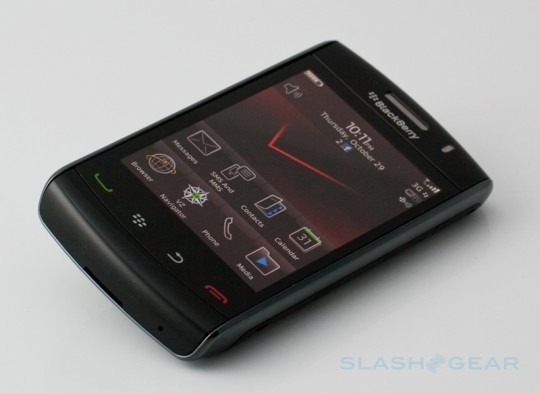 Happily one of the original Storm's best features – its LCD display – hasn't been changed, and the 3.25-inch 360 x 480 panel on the Storm2 is brilliantly bright, color saturated and crisp. RIM's original SurePress system, though, let the Storm's display down. In an attempt to replicate the physical sensation of hardware keys, RIM designed their first-gen touchscreen to flex with pressure, hitting one large, central button. While certainly distinctive, it proved ergonomically unpleasant, difficult to press in the corners and prone to mis-clicks. The issue was compounded by lackluster auto-correct software that fell way behind what was on offer in the iPhone 3G.
With the Storm2 9550, RIM has replaced the mechanical SurePress system with an entirely new one, this time based on four piezo-electric buttons equally spaced out under the touchscreen layer. This instantly addresses the uneven click plaguing the first-gen Storm, with the screen now pretty much evenly responsive no matter where you press, and it's also far more responsive. Because mechanical SurePress had to factor in the time for the display to bend and righten, typing ended up slower as you waited for each button press to be registered. RIM have been able to add key rollover and some basic multitouch to the onscreen QWERTY on the Storm2, in fact; you're able to hold down Shift and click a letter you want capitalized, for instance, and two-thumbed typing is speedier since you don't have to wait for each thumb-press to be registered and the screen to "reset". There's sensible copy & paste control, too, using one finger to mark the beginning of the highlighted section and another at the end.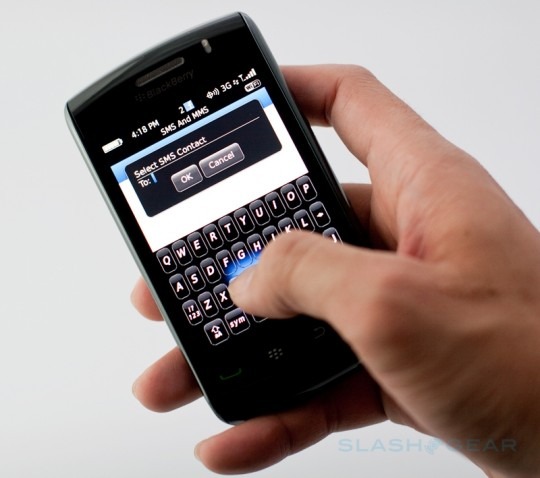 The auto-correction software has also had a much-needed reboot, and now does a much better job of spotting and tweaking spelling errors. To be honest, while it's a night-and-day improvement over the original Storm, we're still not 100-percent convinced that SurePress offers a knockout blow against rival touchscreen keyboards. Nonetheless, it now no longer feels like the potential deal-breaker of the old system, and that's a strong point in the Storm2's favor.
Elsewhere, RIM has addressed our other key complaint about the first-gen model: the software. The intervening months have seen many unofficial Storm OS builds and very few official releases, culminating in BlackBerry OS 5.0 which was launched along with the Storm2. It's a real improvement compared to the state in which the Storm originally shipped, and the Storm2 moves quickly between applications and now supports threaded inertial scrolling, text messaging, and gets a new browser. The latter is not yet WebKit based – unlike what you'll find on Android, iPhone and other platforms – but does see speedier JavaScript and CSS along with Google Gears support.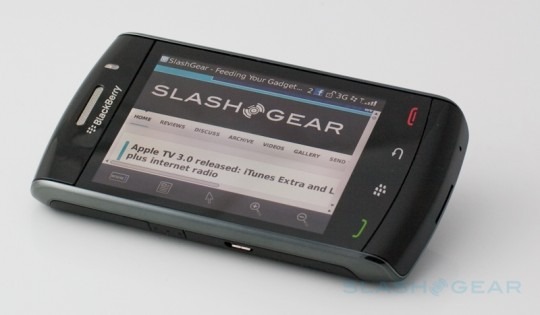 Unfortunately, the more eye-catching features we're seeing on rival devices aren't yet in place, so there's no multitouch zooming and no in-browser Flash video playback. We roasted the Storm for omitting WiFi, and happily RIM have added WiFi b/g to the Storm2; saying that, we found Verizon's EVDO Rev.A network to be reasonably snappy, and certainly more stable in places AT&T's 3G network encountered issues on our iPhone 3GS.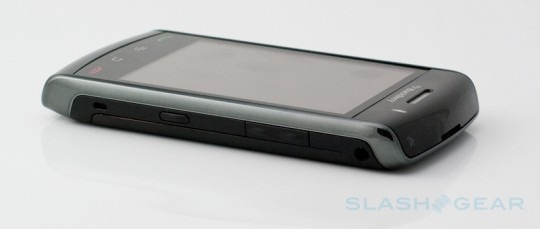 We praised the Storm2's screen, and so we're content with the line-up of media playback options RIM offer. It's all little changed from the original handset, which means you get a slightly less streamlined interface than, say, on the iPhone, but a comparable experience to what other smartphone platforms provide. OS 5.0 now splits up music and video into different folder views, which makes for easier browsing, and there's a 3.5mm headphone jack which means you can use your own earphones or, thanks to Bluetooth A2DP support, a wireless pair.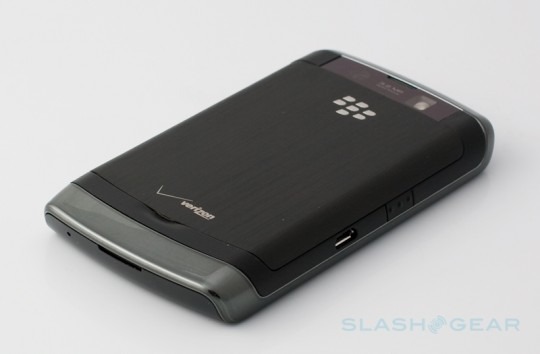 As for the 3.2-megapixel camera, while the Storm2 has a flash and image stabilization, we found shots were still blurrier than we'd prefer. Outdoor images were cleaner, but colors weren't as accurate as with other handsets' cameras. Indoor shots tended toward grainy, and like most LED flashes there's a narrow sweet spot between over- and under-saturation of the subject. One welcome improvement is the speed at which the camera app loads and is ready to take a picture, which is far faster on the Storm2 than the laggardly Storm managed.
As a phone, we were impressed with the Storm2's audio performance and ability to grip to a signal. Audio quality on either end of the call was decent, though we were told we sounded quiet or distant a few times, while the speakerphone was loud though not always entirely clear to either party. As for the battery, RIM estimate up to 5.5hrs of talk time or up to 11.2 days of standby from the 1,400mAh Li-Ion pack; with a mixture of calls, messaging, push-email and some browsing, we've been finding the Storm2 capable of going a day or two between charges. That's reasonable for a current smartphone.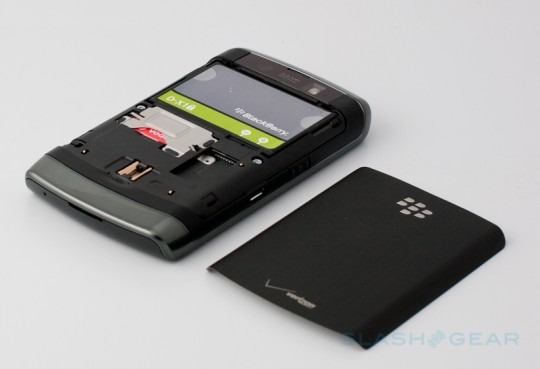 Have RIM done enough with the BlackBerry Storm2 9550 to put the ghost of its predecessor to rest? You could certainly argue that merely by addressing touchscreen, WiFi and OS they've gone a long way in redeeming themselves. The Storm2 remains a crossover device for RIM, we feel, stepping away from its purist messaging heritage to better accommodate internet browsing and media playback; seen in that light it's far more successful than the first-gen handset. Unlike before, the Storm2 actually feels ready for release, rather than anxiously awaiting the next firmware update.
Our remaining doubts concern how well the Storm2 stands as a prosumer device compared to its flourishing Android, iPhone and webOS rivals. Each has areas in which they better the Storm2, whether in usability, responsiveness, browser experience or media playback, but the BlackBerry does put up a decent fight. The Storm2 falls short of delivering a knockout blow, but it's no longer undermined by its own "unique features". RIM has certainly done enough for the Storm2 to warrant a place on your touchscreen smartphone shortlist.