BlackBerry rolls out Android 6.0 for Priv with more features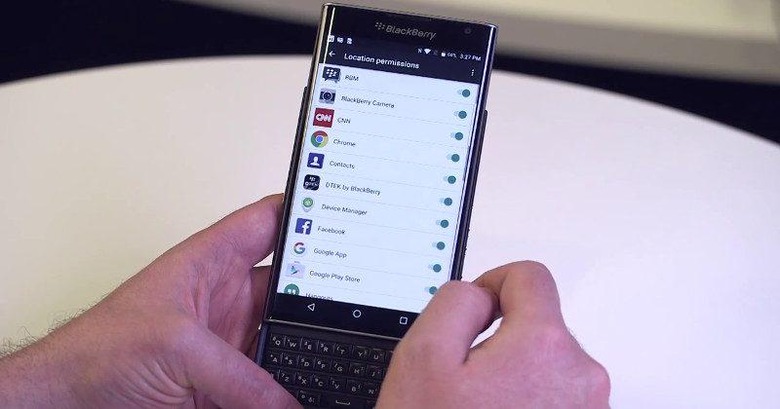 Android 6.0 Marshmallow has been out in public for more than five months now but, unsurprisingly, it's adoption rate hasn't even reached a tenth of the Android market. There is, then, some merit to BlackBerry's boast of being one of the few OEMs to have embraced the new version so quickly. Then again, it really only has one Android device to worry about anyway. Still, it's a commendable effort, especially after only a month in beta testing. But rather than simply provided Android Marshmallow to BlackBerry Priv users, it also took the opportunity to introduce some new features to its only Android smartphone as well.
A lot of Android 6.0's new features revolve around security, which is right up BlackBerry's alley. That also means, however, that the company had to take double care those changes mixed well with its own proprietary security platform, which could explain why it took them so long to roll it out. For example, the new App Permissions had to be integrated seamlessly into BlackBerry's DTEK app, where users can now drill into specific permissions and disable the apps they don't want accessing those features. Unlike OEMs like Samsung, BlackBerry has enabled Android 6.0's External Storage adoption feature.
BlackBerry also took the opportunity to rollout enhancements to some of its apps and features. The physical keyboard, for example, lets you swipe to type, pretty much like some third party virtual keyboards. On a screen, that is smooth and easy. How that plays out on a physical keyboard with distinct keys will be interesting to see.
BlackBerry also introduces new social apps in BlackBerry hub, including Instagram, Skype, Slack, and Pinterest, perhaps making up for the Facebook debacle it experienced recently. The camera app has also been updated with support for recording slo-mo videos in 120 fps, to be later played at 30 fps. The feature notes that audio is, unsurprisingly, disabled for slo-mo vids.
The Android 6.0 Marshmallow update can now be downloaded via the usual Android updates menu. Those with carrier editions, however, will have to wait until May 3 to get theirs.
SOURCE: BlackBerry