BlackBerry Priv spotted running Android 6.0 Marshmallow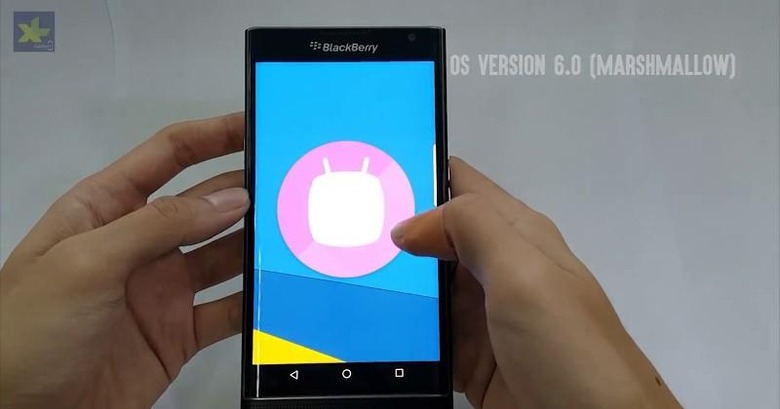 Considering its commitment to security, it is sort of expected that BlackBerry would stick to its promised regular monthly security updates for its so far only Android smartphone, the BlackBerry Priv. Other than that, however, the company has been rather silent when it comes to other major Android updates. Yes, we're talking about the update to Android 6.0 Marshmallow. With the still unnamed Android N due to rear its head in the next few months, users are perhaps wondering when they'll get the latest Android, if at all. If this video is any indication, it will be "really soon now".
The Priv, like many of its contemporaries, launched with Android 5.1 Lollipop, so it's not exactly that far behind in terms of Android versions. And considering it's a major version change, it's not exactly surprising that BlackBerry is taking its time. And yes, there are more seasoned Android OEMs out there who are faring far, far worse in this department. Still, a timely Android 6.0 update for the Priv would help improve the company's image regarding its commitment to the smartphone.
The Android 6.0 running on the Priv was spotted in a video review of the smartphone's features. The review mentions it for only a few seconds before proceeding to other highlights. Other than the version number and the hidden animation as proof, there is no other reference to Marshmallow at all. Which, isn't anything out of the ordinary given the review is about the Priv as a whole rather than the updated OS.
Visually speaking, there is little to distinguish Marshamallow from Lollipop anyway. Most of Android 6.0's most notable changes are under the hood or power user features. For example, there's Doze mode that puts the device in deep sleep after a period of long inactivity and no motion. App Permissions give users more fine tuned controls over privacy options per app. Some of Marshmallow's features actually intersect with BlackBerry's focus on privacy and security, which could explain what's taking the company so long.
Still, there's now hope that it might happen soon. Given the Priv is BlackBerry's first fully Android smartphone, it might perhaps be forgiven for now. But if it plans to put out more Android handsets, it better learn how to do such updates fast and smoothly.
VIA: CrackBerry