Blackberry Pearl 8100 Full Specs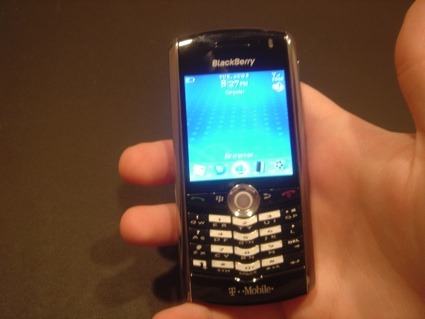 Here's the Blackberry Pearl's full stats, disclosed on Pinstack's forums. I like the way it looks, nice features and most like own one if it's not a Blackberry. I still prefer a "full" keyboard to the SureType.
In a nutshell, the Blackberry Pearl 8100 is a Quad Band GSM, with EDGE data, a 240x260 resolution screen, thinner than the RAZR but not smaller, a 1.3-megapixel camera, with online storage of photos, 64MB of internal flash with microSD expansion slot, and support for MP3 ring tone support.
Features Available:
* Email

* Phone and SMS

* 1.3Mp Camera with "My Album" (an personal on-line album where you can store your photos)

* microSD memory expansion slot

* Extensive Voice recognition

* Corporate Data Access

* Organizer

* Wireless Internet

* quad-band GSM plus EDGE (CDMA version TBA)

* Tethered Modem

* BlackBerry Messenger

Display: Large, bright, high-resolution LCD color screen with light sensing technology 240 x 260 pixel 65k color display.

Size & Weight: TBA. So far it seems as thin or thiner than a Motorola RAZR.

Keyboard: SureType technology, combines phone and QWERTY layouts for quick and accurate dialing and typing Dedicated send, end, convenience, power and mute keys

Backlit.

Navigation: More durable and lefty-friendly' thumb operated Joystick with and return key.

Voice Input/Output:

* Integrated earpiece and microphone

* Hands-free speakerphone

* Hands-free headset capable

* Bluetooth v2.0 hands-free headset and car kit support

Notification: Polyphonic and MP3 ringtones, vibrate mode, on-screen or LED indicator and possible picture ID alerts.

User Interface: Intuitive icons and menus

Battery/Battery-life: TBA

Memory: 64MB of internal flash with microSD expansion

Modem: Embedded RIM wireless modem Tethered modem capability for wireless Internet connectivity.

Processor: Intel XScale processor (TBC)

Email Account Compatibility: Integrates with an existing enterprise email account or up to 10 personal/business email accounts

Includes BlackBerry Desktop Software: Supported by version 4.2 or higher (TBC)

Works with BlackBerry Enterprise Server: Supported by:

* Version 2.1 or higher for Microsoft Exchange

* Version 2.0 with Service Pack 2 or higher for IBM Lotus Domino

* Version 4.0 or higher for Novell GroupWise

Handheld Security: Password protection and keyboard lock

Accessories Included: USB cable for charging and PC synchronization

Travel Charger and Holster (TBC)

Network: Quad-Band: 850/900/1800/1900 MHz GSM/GPRS and EDGE networks

Works In: US (850/1900 MHz), Canada (850/1900 MHz) & Europe/Asia Pacific (900/1800 MHz)