If you thought that BlackBerry was going back to its physical QWERTY keyboards for good, its announcement at MWC 2015 just proved you wrong. Introducing the BlackBerry Leap, the next all-screen smartphone from the embattled company. The Leap is selling itself as a smartphone for a younger generation, hence the lack of physical keyboards, yet shares in the same features that enterprise-level BlackBerry 10 devices have, including security and Android apps. All supposedly for an affordable entry-level price tag we have yet to know about.
As an entry-level smartphone for "rising stars", as BlackBerry calls them, you wouldn't expect much from the device. BlackBerry's devices have been known to be strange mix of components from different tiers, but perhaps the Leap takes the cake. The 5-inch edge-to-edge screen has a resolution of 1280×720, which isn't that bad for a mid-range device. There is ample 2 GB of RAM and the 16 GB of storage, though small, can be augmented with up to 128 GB from a microSD card. There's even 4G LTE connectivity. All that to mask what could be the bottleneck of the device.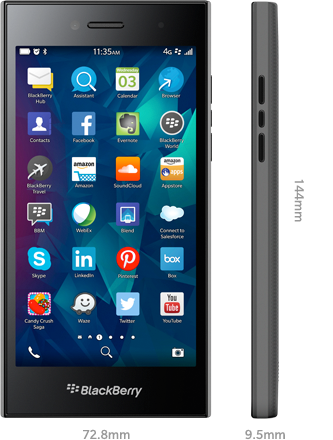 The BlackBerry Leap runs on a Qualcomm MSM8960. That's the model for the 1.5 GHz dual-core Snapdragon S4 Plus. Yes, a SoC from early 2012. Now, this would perhaps put it on par with other low-end smartphones these days except for the fact that it uses a slower RAM technology and a lower GPU compared even to the earliest Snapdragon 200's. Real-world performance in this day and age still needs to be tested, but suffice it to say, the 25-hour battery life of the 2,800 mAh is no longer mysterious.
On the software side, you can expect everything that BlackBerry 10.3.1 has to offer. The mobile platform just recently got a major update that brought in those features. These include BlackBerry Assistant, support for more Android apps through Amazon Appstore, the cross-platform BlackBerry Blend, and a new and improved BlackBerry Hub. Those are added on top of the things that BlackBerry is known for, including enterprise-level security and, of course, BBM.
BlackBerry has yet to announce availability details of the device. Meanwhile, it is also doing a Samsung: