Blackberry Foursquare app gets NFC support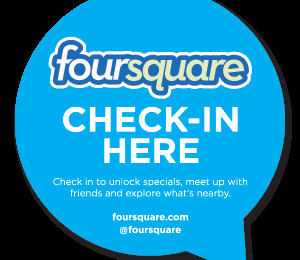 Here's something we don't get to say very often – the Blackberry version of a popular social app is trailblazing the way for new technology. Yes, the Foursquare app on Research in Motion's dying smartphone platform has just been updated, bringing with it support for a whole portfolio of Near Field Communication (NFC) features. This widely expands NFC Foursquare functionality, which is currently only available to Android Ice Cream Sandwich phones.
The Blackberry app update also provides some requisite enhancements like faster performance and more accurate GPS location identifying. But NFC is really what it's all about. "You can share places and tips among other BlackBerry and Android devices (or even check in at places with NFC stickers), with a simple tap of your phone," Foursquare wrote in an official blog post about the new update.
Both the Blackberry Bold 9900 and the Curve 9370 have NFC technology built into their hardware. With the feature, users are able to exchange data – venue profiles, user data, tips, and lists – with a simple tap. That is, of course, provided both users have a compatible NFC device. Nevertheless, it is always nice to see NFC expanded beyond mobile payments, which is what it has become primarily associated with. The update is available now in the Blackberry App World store.
[via VentureBeat]