BlackBerry Bold Touch Makes Brief Appearance On RIM's Front Page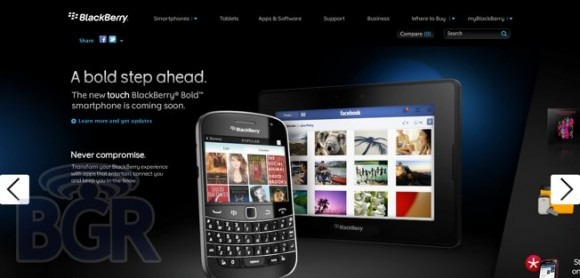 Research In Motion (RIM) has either accidentally posted the new BlackBerry Bold Touch on their front-page today or pulled a PR teaser trick. Whatever it was, it was quickly removed, but not before folks got a good screenshot of the page, which detailed the company's new touchscreen smartphone likely to be unveiled at next week's BlackBerry World convention in Florida.
The BlackBerry Bold Touch 9900 surfaced in some leaked photos earlier this month, with sources claiming the touch interface to be very responsive. The device was also said to be the slimmest BlackBerry ever while remaining a solidly built QWERTY device that you'd come to expect from RIM. No other known specs were given at that time nor have any been revealed with today's screenshot. But according to an original RIM roadmap leak, the device should sport a 1.2 GHz Qualcomm processor, quadband GSM/dualband UMTS, 5-megapixel camera, and WiFi.
The product graphic shows the device floating in front of the recently launched PlayBook tablet and indicates that the new smartphone will be running BlackBerry OS 7 and features a fluid "Liquid Graphics" touchscreen. But other than some more marketing lingo, there isn't too much information to be gleaned. And it's also not certain whether the official device name will actually contain the word "Touch" or just be called BlackBerry Bold.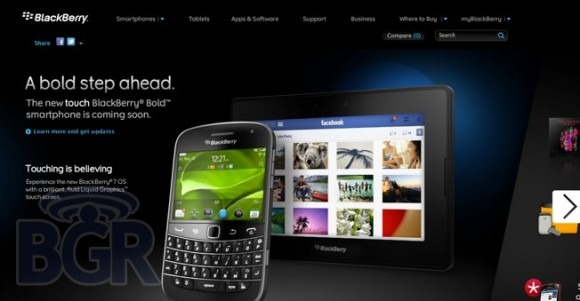 [via BGR]