It's a big year for the Call of Duty series, as 2018's entry will bring about some big firsts. Black Ops 4 is dropping the traditional single-player campaign – a first for the mainline series – and in its place will be a new battle royale mode called Blackout. Many of us, of course, expected Call of Duty and Battlefield to both get battle royale modes this year, given the meteoric rise of the genre over the past year-and-a-half or so.
For the most part, Activision and Treyarch have been tight-lipped about what we can expect out of Blackout mode. Many of our questions will be answered when the Blackout beta kicks off on September 10, but before it does, Treyarch has shared the full battle royale map players will be duking it out on. Have a look at the map, which was shared today on Twitter, below.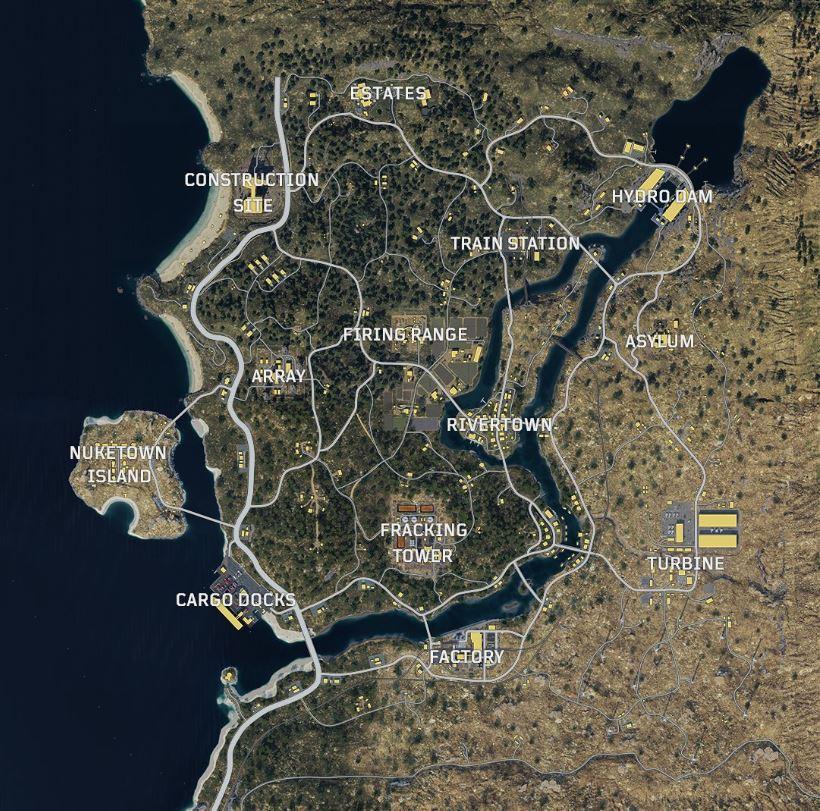 As you can see, that's a pretty big map, and its size easily earns it the title of largest Call of Duty map ever. There are 13 named locations in all, but there's surprisingly few cities and towns among the list of locations. In any case, you can probably expect those named locations to be home to a lot of action, especially places like Rivertown and Nuketown Island, as those locations will probably offer high building density and, by extension, a higher likelihood of powerful weapons.
The map certainly seems to get more developed as you head toward the center. Though there are a few yellow buildings dotting the outskirts of the map, it doesn't look like there'll be a whole lot to see out there. Of course, we don't really know how loot and vehicle spawns will work in Blackout, so it could be that the outer areas of the map still have plenty offer despite their lack of buildings.
Pre-ordering Black Ops 4 is currently the only way to get access to the Blackout beta. It's worth pointing out that its September 10 launch date only applies to PlayStation 4, and for now, we don't know when the beta will go live for other platforms. We'll keep an eye out for those dates, so stay tuned for more.