Black Diamond Interactive Ambience iPhone Dock Brings Magical Party Time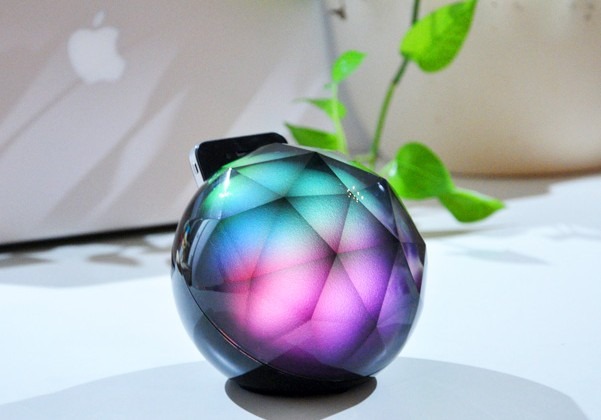 A Taiwanese duo has posted a nice little concept device at CKIE, a portal ideas/projects can be posted to seek funding. In their video, the two guys ask you to take a look at your drab room and then take a look at their's. See the difference? Yes, your room is missing the "magical" colors of the Black Diamond iPhone dock. The black translucent multi-faceted orb functions not only as a charging station but also as mood lighting by diffusing in a unique way the colors and lights coming from an app while your iPhone is docked.
The design concept came from the idea of putting an iPhone with the flashlight app into a frosted jar, which creates a nice diffused glow. The duo took that idea further by creating a unique diamond-cut orb that your iPhone can be slotted into. The pattern of the cut and the translucency of the material creates an interesting and soothing ambient effect. The app that creates the display on the iPhone, which acts as the light source, can be tweaked to display a multitude of colors as well as be synced to music for party time.
The duo that invented the device have a working prototype and are asking for your help. They need funding to get the product launched. With a $45 donation, you get a discounted Black Diamond interactive ambiance iPhone charging dock, USB cable, plus free shipping! The team has 43 days left so far. However, if that doesn't do it for you, don't miss other interesting projects on CKIE that may need your help as well.
[via CKIE]