Bizarre Brikk Cases For The iPhone 5 Are Made From Solid Gold Or Platinum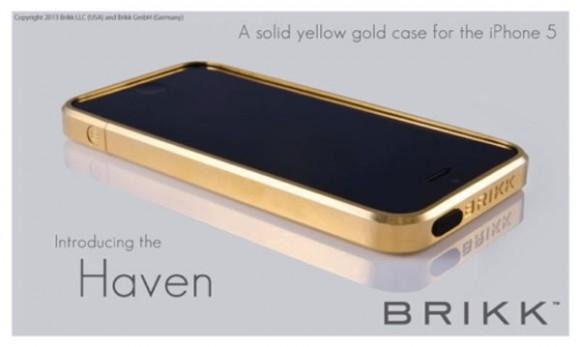 We have seen our share of bizarre cases for the iPhone 5 and other devices over the years. There are a few companies out there that make incredibly expensive and high-end cases that enclose smartphones in precious metals and jewels. A company called Brikk has unveiled what may be the most expensive iPhone 5 cases ever produced.
The company makes a case called the Haven that comes in four different versions. The design of all the cases is the same and all completely wrap around the sides of the iPhone 5 leaving the screen and back exposed. The big draw here isn't the design of the case, but what the case is made from.
The case comes in a version made from precious metal in one of three colors. The case can be had in yellow gold, pink gold, or a version made from platinum. As you can imagine with a smartphone case made completely from a precious metal, pricing is incredibly expensive.
Prices for the case depend on the metal chosen and range from $11,610 up to $14,235. A portion of the money made from selling the case goes to help fight world hunger with each case sold funding one metric ton of rice. Each of the cases is made from over 75 g of gold and the platinum model is made from over 100 g of platinum. The company also offers customized versions encrusted with diamonds or other precious stones.
[via Brikk]