Bixby Vision real-time text translation tipped with Google Translate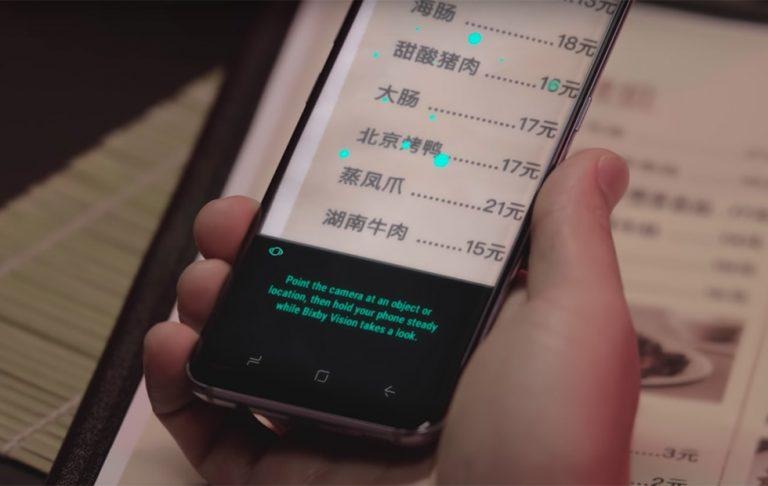 Samsung's Bixby AI will be getting some new capabilities in the future, and rumor has it that real-time translates are among them. The assistant already offers translations of written text via Bixby Vision, but Samsung is gearing up to add real-time translation, sources claim. The AI may soon also be equipped with better recognition of landmarks and other notable destinations.
Samsung will announce the new Galaxy S9 and Galaxy S9+ smartphones in Barcelona later this month. It is expected that Bixby will also get a time in the spotlight and that Samsung will announce new features arriving with it. The company has previously detailed big plans for its artificial intelligence.
According to info acquired by Sammobile, one of those features will be real-time text translations via Bixby Vision, powered by Google Translate. As it currently exists (shown in the video below), anyone can use Bixby Vision to take an image of text, select the text, choose translate, then select the specific words to translate. That's great if you're in a difficult situation, but it's not exactly fast.
That would change with real-time translation, which presumably means simply pointing the camera at the text and getting a translation back right away, no tapping and selecting necessary. Such a feature would be immensely useful for someone traveling in a region where they don't speak the language (or, at least, can't read its script).
As well, Sammobile reports that Samsung may be planning to ditch Foursquare and switch to Google for Bixby Vision's ability to ID landmarks and various establishments. This change will reportedly arrive for the Galaxy S9 and S9+ handsets, meaning we may hear that announcement officially in a couple weeks.
SOURCE: Sammobile