Bitcoin on fire as proponents prognosticate stratospheric rise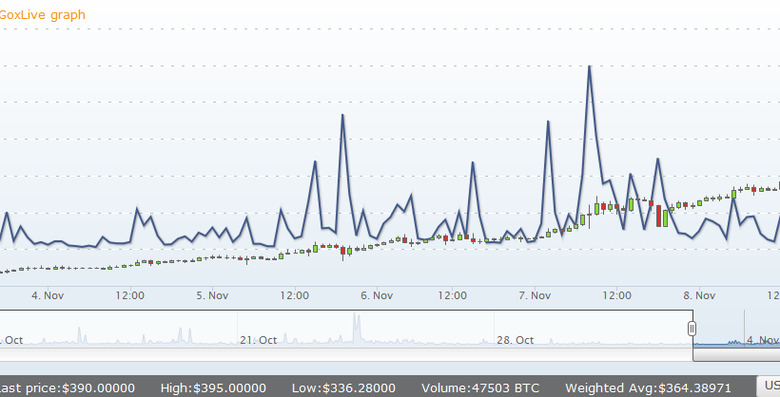 As of this moment, Bitcoin's exchange rate is hovering a few dollars under $400, according to the Mt.Gox ticker. It's about $45 more than it was 24 hours ago, $75 more than the day before, and $120 more than the day before that. All told, Bitcoin has netted about $180 in the past week. To give you an idea of what this looks like, the steady green line of candlesticks in the charts below signify highs and lows for the past week; the erratic blue line represents trading volume.
This recent spike started on Sunday, Nov. 3. Until that date, the Bitcoin exchange rate had been smoothly sliding down from a high of $233 on Oct. 24 to settle in at a seemingly stable $212 or so. Before the 24th, it had put in a long and steady climb from $140 starting on Oct. 10, but even that rise was nothing compared to these past few days. This is the chart for the past month:

The biggest recent jump took place on Nov. 7, when Bitcoin opened at $278.99, hit a daily high of $321.52, and closed at $310.99. Since then it's just been ratcheting itself up higher and higher. How high it will go remains to be seen, but some–such as Bitcoin Investment Trust–believe it could eventually rise in value to upwards of $37,000, assuming it reaches 5% of the price of gold. That is not a typo.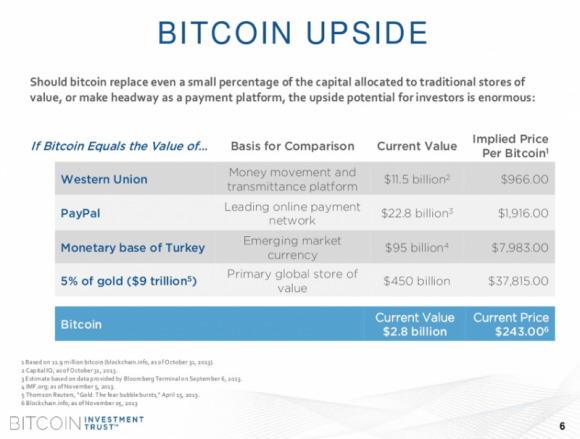 This week's conflagration of naysayers' naysaying far outdoes the $266 value Bitcoin rose to in April of this year, which many thought would be the end of the digital currency's heyday. As it stands, anything could happen. If it can withstand these incredible fluctuations (not to mention technical vulnerabilities such as hacking), Bitcoin may indeed be on a stratospheric trajectory.
SOURCE: Business Insider (with Bitcoin Investment Trust and Mt.Gox)