Bitcoin is now worth more than an ounce of gold

A single Bitcoin is currently worth more than an ounce of gold, marking a new milestone for the cryptocurrency. The move follows a steady rise in Bitcoin value, a trend that itself ended the cryptocurrency's long-running streak of low value throughout 2015 and part of 2016. At the moment, an ounce of gold is worth just under $1,238 and a single Bitcoin is worth just a tad over $1,238.
The values of both gold and Bitcoin have been on the rise over the last handful of months, with Bitcoin representing the larger of the two changes. The current increase in Bitcoin value is likely due to the possibility of the very first Bitcoin ETF being approved by the SEC later this month.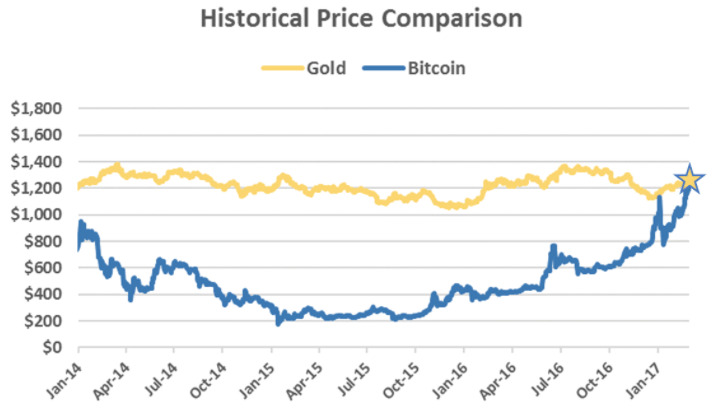 Whether Bitcoin value will hold steady is yet to be seen — past trends have shown troubled times for the cryptocurrency, which began a slow dip in early 2014 and continued that trend through about October 2015. The first big spike in value starting around January 2016, with another big spike hitting last summer and then this past January.
As of Thursday, the value of a Bitcoin sat at $1,238.11, while an ounce of gold had a value of $1,237.73. It's good news to faithful Bitcoin users who increasingly utilize the cryptocurrency. Previously the staple of online black markets and anonymous money trades, Bitcoin is now accepted by many reputable companies including VPN providers, Microsoft, Dell, and more.
SOURCE: CoinDesk