Bisimoto Engineering EcoBoost Mustang heads to SEMA with 900hp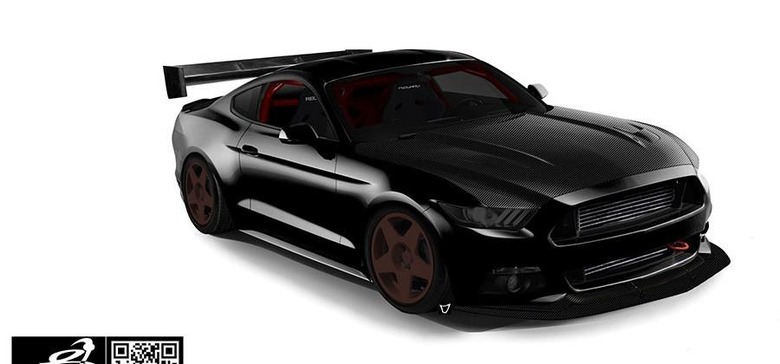 Ford has announced that it will have several customized Mustangs in its booth at SEMA and one of them is a very impressive EcoBoost four cylinder machine. This Mustang is built by Bisimoto Engineering and started life as a basic 2.3L EcoBoost car. Bisimoto designed 14 new parts for the EcoBoost Mustang just for SEMA.
Modifications to the powertrain include AEM electronics including an Infinity 6 ECU, boost controller, flex fuel sensor, and fuel pressure regulator. The engine internals where changed for more strength with Arias Pistons 9:1 hi-tensile forged billet pistons, ARP head and main studs, wheel studs, and bolts.
Bisimoto used its own Web Level 2.4 cam, 360-degree oil cap, custom exhaust, and steel rods along with reservoir shocks. The car uses Five O Motorsports 220cc fuel injectors and special Golden Eagle Manufacturing cylinder sleeves, fuel rail, and air intake.
The turbo was upgraded in the car with a Turbonetics BTX7668 turbo with internal wastegate and Godzilla blow off valve. An updated clutch and lots of other parts went into the build. The car appears set up for road racing with a full cage and a big wing on the back for aero along with a front splitter. The car also has big brakes and lots more.