Bigben offers Cyberbike for Nintendo Wii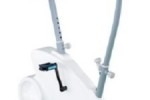 I have seen my share of odd gaming accessories over the years and the Nintendo Wii spawns some stranger accessories than most systems do. Coming soon game publisher Bigben is offering a new game called Cyberbike that includes a full size exercise bike peripheral. I'm not sure if this is taking the fitness aspects of the Wii too far.
The game has 18 different courses that users can ride and has an eco-conscious theme. In the game, the rider is helping to clean up the planet by clearing the roads of trash and sources of pollution. The exercise bike is included with the game and as the rider progresses new accessories are unlocked.
The bike controller is the big feature of the game though and has adjustable seat and handlebars to allow the entire family to play. The game also has a multiplayer mode. Exactly how much the exercise bike and software will cost is unknown, but you can expect it to be more than the Wii Fit Plus.