Bethesda E3 2017 announcements: Wolfenstein II, Skyrim Switch, VR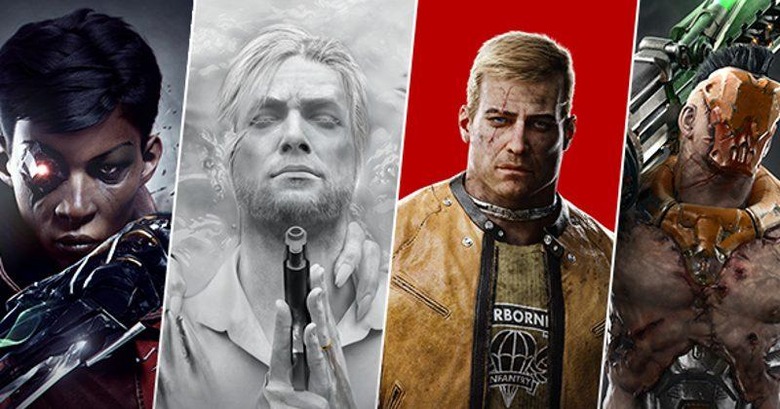 After month after month of announcements about phones, its gamers' time to have the stage. Kicking off with a gaming-centric Computex last month, the spotlight has now turned towards the annual E3 show. On the heals of Microsoft Xbox One X reveal and EA and BioWare's new Anthem "Destiny-alike" shooter, Bethesda, makers of The Elder Scrolls and owners of DOOM, just unloaded a ton of new games, starting with something that has been a long-time coming: Skyrim on the Nintendo Switch.Skyrim Switch
When Nintendo first revealed the Switch late last year, it showed off the hybrid handheld console running one of the more resource-intensive PC games, at least when it came out half a decade ago. Now The Elder Scrolls: Skyrim is finally making its way to Nintendo's newest console. But it won't just be a simple direct port either.
Skyrim Switch takes advantage of the Joy-con's built-in motion sensors to introduce a new motion-based system for combat and even lockpicking. As the ultimate nod to its new Nintendo link, the game features outfits and gear from the Legend of Zelda. And, yes, it also includes the Dawnguard, Heathfire, and Dragonborn DLCs.
Wolfenstein II: The New Colossus
Another thing a long time coming, perhaps even a lot longer, is the sequel to Wolfenstein. No, not the original Wolfenstein made by id Software but the 2015 "remake" from the franchise' new Owners. Wolfenstein II: The New Colossus continues the ordeals of Nazi enemy #1, BJ "Terror Billy", as he seeks to recover not only his country but also his health from the reigning Nazi overlords.
Wolfenstein II launches 27th October for the PC, Xbox One, and PlayStation 4.
Reality check: Fallout 4 VR, DOOM: VFR
Unsurprisingly, virtual reality makes its presence felt at this year's E3 though, surprisingly, not at the center or the bulk of the announcement. Bethesda, however, saw it fit not to just have one but two VR-centric titles up for grabs soon.
Fallout 4 VR has been in the works for quite a while now, having been teased last year. Soon you will be able to don your VR headset and almost literally step into the Wasteland to experience the post-apocalyptic world in a more personal way. Every nook and cranny has been redesigned to be explorable in a VR setting, and systems and items have also been augmented to take the new point of view into account. Fallout 4 VR lands for the HTC Vive in October.
DOOM: VFR might not be what you imagine it to be. Yes, it does take you to the action and demonic horrors up close, but only artificially. You won't be in your own body but inhabit an AI matrix that can, in turn, inhabit all sorts of machinery to solve puzzles and help you do what you do best: blasting demons.
Create Your Own Adventure: Fallout 4, Skyrim Creation Club
Exhausted all the possible experiences in your N-th Fallout 4 or Skyrim run? Not entirely interested in going through those same paths on a VR headset or handheld device? Bethesda developers and community modders have banded together to introduce new pieces of content to let you squeeze out a bit more juice from your games. Coming this summer for PS4, Xbox One, and PCs, the Creation Club is a collection of items, skills, and gameplay content for Fallout 4 and Skyrim Special Edition that injects something new into old games. And, since they're officially curated by Bethesda, the new content is guaranteed to be fully compatible with both the main game as well as the official add-ons.
Assassination nation: Dishonored: Death of the Outsider
Whereas most game franchises would have you playing the same larger than life hero or heroine each and every installation, the Dishonored series allowed you to experience the world from different eyes. Dishonored 2 allowed you to step into the world of deposed Empress Emily, Dishonored: Death of the Outsider lets you play as fan-favorite killer for hire Billie Lurk as she takes on what is probably the most daring and suicidal mission of all: killing the god-like Outsider.
The first standalone game adventure in the franchise (hence not Dishonored 3), Death of the Outsider promises new powers which offer new ways of getting the job done. It also promises a completely new experience that requires no previous Dishonored knowledge or experience. Available starting 15th September on the Xbox One, PC, and PS4.
Draw your fate: The Elder Scrolls: Legends – Heroes of Skyrim
Not all games need to be adrenaline-pumping, button-mashing affairs. Some require a bit more thought and a lot more time. Card games are the prime example for such types of games, and they're apparently very profitable as well. Still trying to unseat Hearthstone, The Elder Scrolls: Legends card spin-off is launching a new expansion, one that centers on the game universe's current most profitable chapter: Skyrim.
Heroes of Skyrim not only bring familiar characters from the computer game into the (still digital) card game but also dragons and a new Shout mechanic. And dragons, 'nuff said. For players of the full Skyrim game, Shouts will be a familiar feature that has been redesigned for card games. The expansion arrives really soon on July 29.
Expanding the expansion: Elder Scrolls Online Morrowind DLCs
Bethesda is really milking The Elder Scrolls franchise for all it's worth. Not satisfied with bringing the lands of Morrowind to its online version of the TES world, ESO: Morrowind will be getting not one but two DLCs soon.
In August, Horns of the Reach will add two new dungeons for you to die in but also a few new items to increase your chances of survival. Clockwork City comes at an undisclosed date later this year with 10 hours of new content promised to keep you busy even more.