Best Buy offers $50 off all iPad 2s hinting at refresh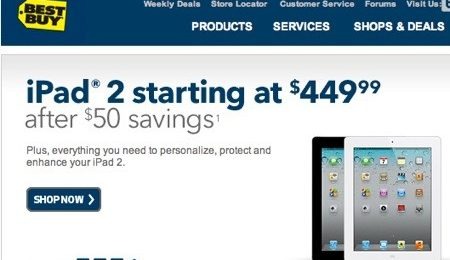 Rarely, in the retail world are Apple products discounted. Apple gadgets such as the iPhone and iPad sell very well at the normal retail prices leaving no real need to discount them to increase sales. This is the reason why each time we see Apple products going discount or stock of the devices shrink, we think refresh immediately. A new product coming to replace the one on sale certainly is not a given, but there's always that chance.
This is why when the iPad 2 went on sale at Best Buy with a $50 discount this weekend, we had wonder if this might be one of the latest indications that a new iPad was coming soon. The new iPad has been rumored for a long time but so far we have no official information on new product. The last time the iPad 2 was on sale was during Black Friday in 2011.
The most recent round of rumors has been tipping a launch date for the US of March for the new iPad. March is not far away, so if that launch is true, a discount showing up on the current iPad would make a lot of sense for retailers wanting to clear stock. If you are the sort who has to have the latest and greatest gadget, you might want to hold off since there could be a new version announced in a few weeks.
[via TUAW]