Best Buy iPad April 3rd Launch Day Playbook Unveiled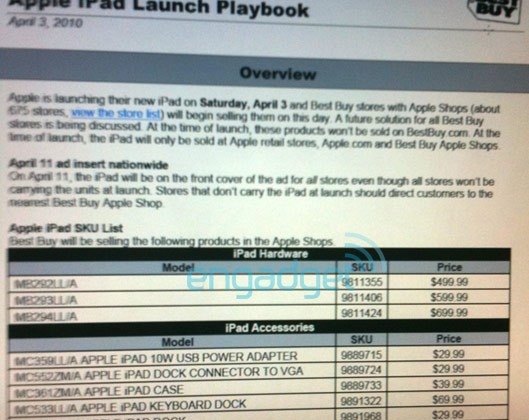 There's no telling to what lengths people will go to make something look real, but we're going to have to say that this would be going too far. Remember that Best Buy playbook that got leaked yesterday? Well, it looks like it got confirmed through a more concrete, 15-page PDF. There's not much here in the form of what we don't already know, but it's good to see that Best Buy, which is the only third party retailer able to even sell the iPad, is taking this very seriously.
They're doing the normal routine, especially for a launch that Apple usually dictates. The playbook details how managers, as well as employees, should handle themselves throughout the day. It even breaks down how the set-up should go about the night before, when Best Buys will erect iPad-specific parts of the stores. As the playbook dictates, that should take about 8 hours, so Best Buy employees are going to need to drink a lot of coffee. Of course, we'll enjoy their hard work by staring at it while we wait in line.
Unfortunately for all those people out there that are already planning to wait in line, Best Buys aren't going to open their doors early for the release of the Apple tablet. Thankfully it's Spring, right? So, Best Buy seems to be  getting things ready, are you? Did you pre-order your iPad? Or are you going to brave the lines in hopes that you'll be able to walk out of the story a lucky iPad owner? Let us know in the comments!
[via Engadget]