Best Android launchers to make your mobile life easier and snazzier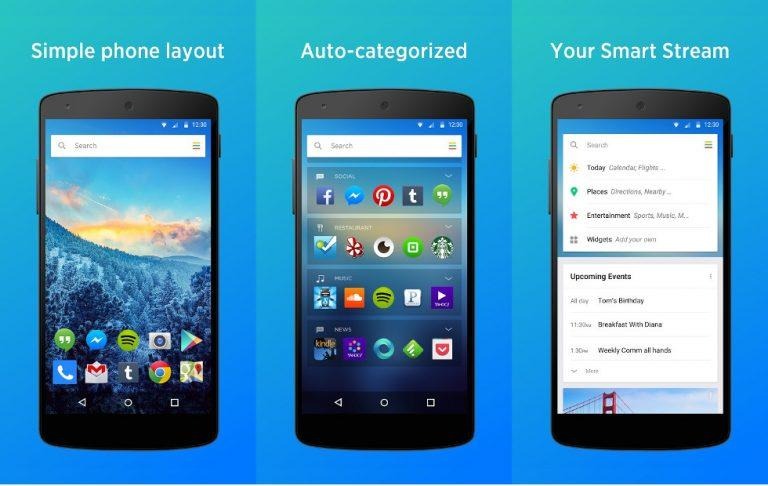 One of the best things about Android has always been its openness to customization, best exemplified by the staggering number of app launcher and home screen replacements in the Google Play Store. Lately, however, that number seems to have dwindled down to a few big players. Some have been left to decay and rot. Others have been or will be shut down, like Yahoo's Aviate launcher. There are, however, still a good number of Android launchers that offer features and options you might not find elsewhere. Here are seven of the younger and smaller ones that might just pique your interest.
Who's not invited
When talking about third-party Android launchers, it's difficult not to mention the big ones like Nova Launcher, Action Launcher, and the numerous ports of Google's own Pixel Launcher. They have stood the test of time and is often regarded to have struck a balance between features and simplicity. As such, we aren't covering them here. Instead, we're celebrating and recognizing the newcomers and upstarts that sometimes cater to a particular niche, which just might be exactly what you need.
EverythingMe
Aviate Launcher, which Yahoo acquired and will soon shutdown, was one of a kind, offering context-based features, feeds, and organization. In its absence, EverythingMe has the chance to step up and step into Aviate's shoes. EverythingMe actually isn't completely new. It has, however, returned just last year after shutting down in 2015. EverythingMe offers a Prediction Bar that presents apps it thinks you will need, a Context Feed for recent photos and missed calls, and daily changing wallpaper, among other things. It's not a complete stand-in for Aviate but it does come close.
Lawnchair Launcher
Some Android users would prefer the kind of experience that Google puts on the Nexus or, now, Pixel phones. But, adopting practices of regular OEMs, Google has pretty much made its launcher exclusive to its phones. Of course, it's definitely possible to have the Pixel launcher on other phones, but the process can be daunting or downright scary. Enter Lawnchair Launcher ("launcher launcher"), which bills itself as "bringing Pixel Features to the masses." This open source launcher promises to bring the features of Pixel phones to other phones with some added features of its own. It also promises to remain completely free and open source forever.
Lean Launcher
There is no shortage of Pixel Launcher ports but few of them find their way to the Play Store for technical reasons. Like Lawnchair, Lean Launcher makes the same promises of open source goodness. Based on the Rootless Pixel Launcher ports, Lean Launcher distinguishes itself for being, well, lean. Despite that, its list of features is pretty long. Just don't expect too much customization.
Evie Launcher
When it comes to being lean, however, Evie Launcher has many of those beat. Rated to be one of the lightest and fastest launchers around, Evie gives just enough knobs and buttons to help you access apps and actions faster without throwing in the kitchen sink. One of its highlights is the ability to create a shortcut from a search result so you won't have to do the process all over again.
Buzz Launcher
On the opposite side of the spectrum, Buzz Launcher does throw in the bells, whistles, kitchen sink and more. If customizing your home screen is what gets you up each day, then its selection of over 700,000 themes shared by users all over will definitely tickle your artistic side. It also boasts of a boatload of gestures to also keep you productive.
Launcher 10
Some Android users like the idea of being able to customize their home screen's appearance because it opens the door to adopting a competing platform's home screen. Interestingly, one of the most cloned mobile UIs isn't iOS but Windows Phone. The tiles interface definitely sings to some users, and Launcher 10 is one of the newest and most featured ones to land in the Google Play Store. If you're a Windows Phone refugee or simply want something new and different, then this Windows "Metro" clone is worth trying out.
Microsoft Launcher
Microsoft does have its own Android launcher and, ironically, it resembles nothing like Windows Phone. That's not to say the Microsoft Launcher, formerly known as Arrow Launcher, isn't as interesting. A contextual feed, daily wallpapers from Bing, and the addition of Cortana definitely make Microsoft's unexpected Android app something to keep an eye on. That is, if you haven't installed it yet.
Wrap-up
From ultra minimalistic launchers to hardware-hogging 3D effects, the Android platform is teeming with app launchers and home screen replacements of all shapes, sizes, and ages. These seven are just some of the latest ones but there are definitely more to discover and play around with. So fire up that Google Play Store app, get searching, and discover the wonderful and sometimes horrifying world of Android launchers.