BenQ's GP1 compact projector featured PhlatLight LEDs technology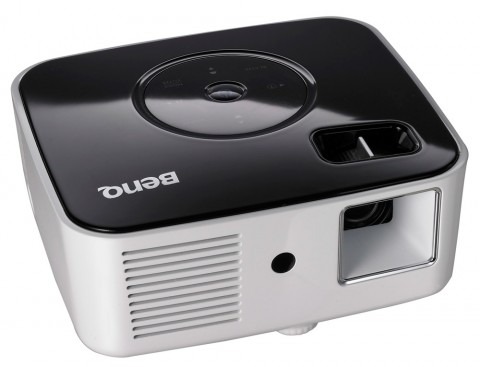 While visiting CES 2009, the folks from Luminus gave me a short 5 minutes walk-though on their PT-39 LED Chipset that used to power all those ultra bright and color accurate mobile-size projectors. I was more impressed with water-cooled Chi Lin and Vivitek full-feature projectors; but after a second look on the mini-projectors' throwing images, I have to say the composes of three individual LED chips were not joke when it came to brightness and color reproduction. It can throw 100 of lumen and claim 20k hours of lamp life, the light source is about 10 times more usable than my home projector. If you want to give it spin, BenQ has recently announced the availability of GP1 Pocket Projector, which incorporated Luminous PhlatLight's PT-39 chipset and Texas Instruments DLP technology to produce the on-the-go mobile beamer at its best.
Let's try again, there's no better mobile projector that provides color space of up 120 percent NTSC color gamut at this size, and the weight? It's only 1.4 pounds!. Wait, did we mention its durability and ultra high LED's life expectancy? The BenQ will be released from March for a suggested retail of $499.
Billerica, MA, January 27, 2009 – Luminus Devices today announced that BenQ's new GP1 versatile and lightweight pocket projector is powered by the high-brightness PhlatLight® LED PT-39 chipset. PhlatLight LEDs offer high levels of brightness and performance not available today in pocket projectors using traditional lamp technologies, making the GP1 an ideal mobile entertainment companion for instant projection anywhere.

PhlatLight LEDs work in conjunction with Texas Instruments' digital light processing (DLP) technology and the combined technologies enable PhlatLight to work more efficiently, making this projector an ideal choice for on-the-go professionals and other mobile system users, like gamers. The PhlatLight LED PT-39 chipset is designed specifically for projection systems that use micro-displays ranging from 0.4" to 0.55" with individual red, green and blue LEDs.

"PhlatLight LEDs are ideally suited for projectors today as opposed to traditional lamp technologies due to the high levels of brightness and to the fact that the light source should never need replacing," said Matt Mazzuchi, General Manager, Projection Display Business Group, Luminus Devices. "Business travelers and video game loyalists alike will appreciate the new BenQ GP1 pocket projector with PhlatLight LEDs because they are offer vibrant images for presentations and video games, while providing unmatched system reliability."

"BenQ is revolutionizing the pocket projector industry and award-winning PhlatLight LEDs are a key in providing our customers with the industry's best products," said Po Su, Marketing Director at BenQ America. "Our next-generation pocket projectors are flexible, making them ideal for multiple applications like home movies and gaming, as well as meeting room demos and mobile business presentations."