BENQ dished out 10 models of G-series 16:9 monitors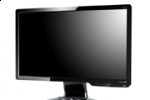 Most monitor-makers are already headed toward the low cost 16:9 TN panel displays, why not BenQ? The manufacturer has quietly announced new G series monitors on their global site, dished out a sum of 10 LCDs, ranged from 15.5-inch to 24-inch with a variety of resolutions to choose from.
The G Series offers five 720p (20" G2020HD/HDA, 18.5" G920HD/HDA, and 15.6" G610HDA) and five 1080p (24" G2411HD/HDA, 23.6" G2410HD, or 21.5" G2220HD/HAD)
models. All models come standard with an exclusive image enhancement engine, Senseye+photo feature, and optimized preset modes to display Standard, Dynamic, Photo and Movie pictures. Dynamic contrast rating boasts from 10,000:1 to 40,000:1 with ultra fast panel response rate from 2ms (GTG) to 5ms.
The top of the line G2410HD and G2411HD/HAD incorporated AMA Technology (Advanced Motion Accelerator) to increase brightness and panels response time. The lower end G920HD/HDA and G610HDA are eco-friendly units boast a dual-lamp design that emits a bright 300 nits and 250 nits, while cutting down energy usage as well as CO2 and mercury emissions.
BenQ's G Series will be first available in China by the end of January, with worldwide introduction later this year. No pricing information is available at the moment.
[via electornista]