Ben and Jerry's teams with Netflix to launch new Chill'd ice cream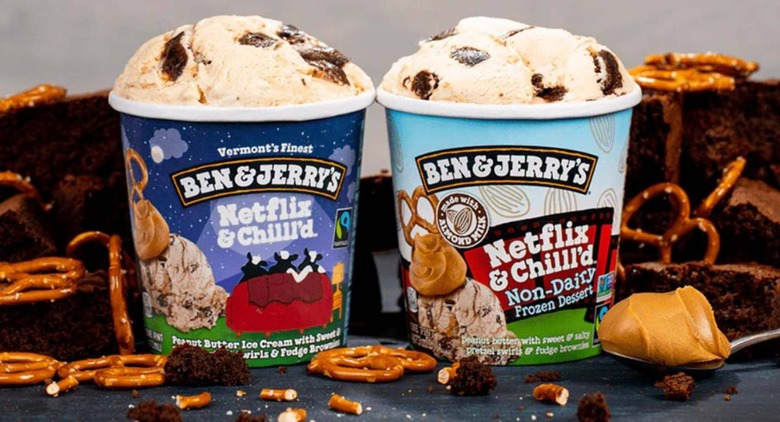 Popular ice cream company Ben and Jerry's has teamed up with Netflix to launch a new themed ice cream product called "Netflix & Chill'd," including a non-dairy frozen dessert version of the product. A total of three "Netflix and Chill'd" products have been launched, each of them featuring the same peanut butter and salty pretzel flavor. The company teases that additional Netflix flavors may be launched, as well.
The new Netflix and Chill'd ice products were introduced by Ben and Jerry's on its Twitter account. The debut video below includes scenes based on various Netflix originals like Money Heist and Big Mouth. The product's name refers to the popular colloquialism, "Netflix and chill," which perhaps isn't the right occasion to break out some ice cream.
Spoiler Alert! @netflix and Ben & Jerry's just became official! #NetflixandChillld
Find out more at https://t.co/KQTuLu8mue pic.twitter.com/9Xj8HDZKSN

— Ben & Jerry's (@benandjerrys) January 16, 2020
This is the first time a flavor has been launched in conjunction with the Netflix brand; it has the same mix of salty and sugary flavors one may get from a variety of traditional theater snacks. The Ben and Jerry's web page for this product has as signup form that indicates there may be future Netflix-branded ice cream flavors launched in the future.
Consumers currently have three different Netflix and Chill'd options: the 1-pint ice cream, 1-pint non-dairy frozen dessert, as well as a small single-serving container of the same flavor. Ingredients in the ice cream variant include peanuts, chocolate, and vanilla. Also note the calories, which are substantial at more than 1,100 per pint.
Which other flavors may be planned aren't clear at this time. The company's website doesn't seem to have yet added the product to its grocery store finder, but presumably this product will be available to purchase in most grocery stores where Ben and Jerry's ice cream products are sold.