Belkin's Travel Rockstar is a battery pack with AC & USB ports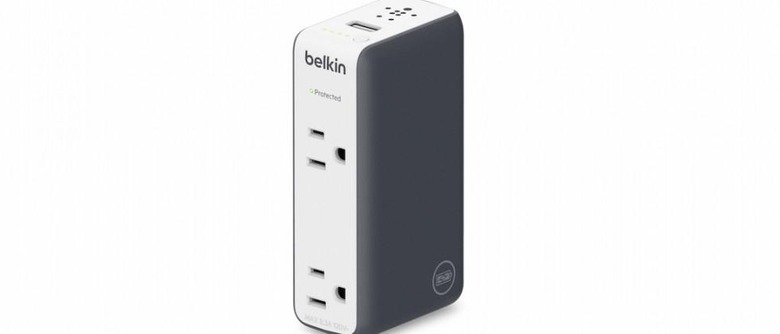 Belkin has just announced a new multi-feature mobile battery pack that just might come in handy the next you're on the road with multiple devices. Dubbed the Travel Rockstar Battery Pack + Charger + Surge, the device is not only a battery for charging on the go, but also a surge protector and a charger that turns a single AC outlet into two. Along with the dual AC outlets is a standard USB port, and inside is a 3000 mAh battery.
The mobile charger aspect is pretty straightforward: just plug the Travel Rockstar into a wall outlet, and the internal battery will quickly charge, allowing it to later power a mobile device on the go via the USB port. The AC prongs also collapse, making it easier to fit into a jacket pocket or small bag.
As for using it while it's plugged into an outlet, the device automatically acts as a surge protector, preventing damage to anything plugged into it from power surges. The fact that it can turn a single outlet into two will be handy when trying to charge multiple devices, or when struggling to find an open socket at a busy airport.
While power is only supplied to the USB port while traveling, both the AC outlets and USB port can be connected to while the Travel Rockstar is plugged into a wall socket.
The Travel Rockstar Battery Pack + Charger + Surge is available now from Belkin's website and select retailers, priced at $60.
SOURCE Belkin