Belkin whips out new iPod cases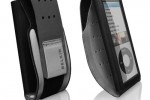 When Steve Jobs stepped out on stage earlier this week to debut the new iPod line for the holiday season we all knew that meant over the following days we would see a glut of new accessories and cases for the new players. Belkin has announced its line of new iPod cases for the new touch and nano players.
All of the cases are set to debut in mid-September. The new line includes the Grip Vue for the nano selling for $24.99 and the touch version sells for $29.99. The cases are made of TPU plastic and are translucent and scratch resistant. A ClearScreen protector is included as well. The FastFit for nano and touch sell for $29.99 and are designed for one-hand fastening with an armband style.
Belkin has also unveiled a Hand Band for the iPod nano at $24.99 that is designed for holding while walking or running. A new line of Grip Ergo cases have also been introduced with a hand strap for the touch at $24.99 along with a line of polycarbonate hard cases for the players starting at $19.99 and going up to $29.99. Belkin is also unveiling leather cases for both the touch and nano as well.