Belkin Wemo Bridge Adds Apple HomeKit To Smart Plugs, Switches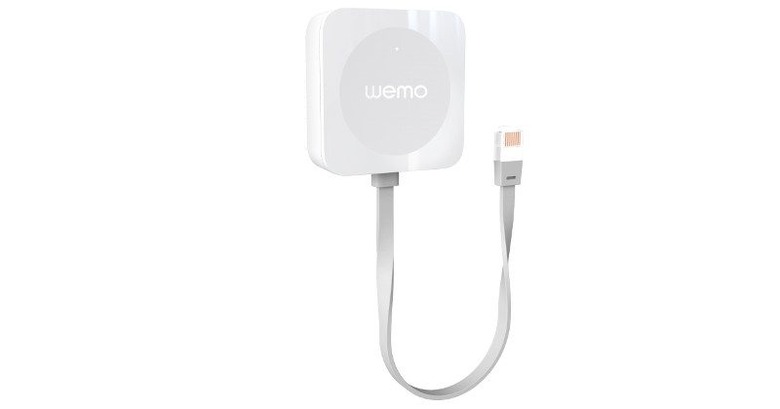 Smart home products these days speak different languages, which sometimes defeats the purpose of having an automated home. But rather than trying to force existing and future products to speak a single language, device and platform makers are solving the language barrier like we do in the real world: with translators. The Belkin Wemo Bridge is one such translator and it is quite adept at one language. This tiny square that you connect to your Wi-Fi router allows Wemo's switches and plugs to speak Apple's HomeKit language.
Apple might be a bit late to the smart home party, but, being Apple, that hardly matters. Device makers will still scramble to support HomeKit, sometimes with new products exclusively for HomeKit and HomeKit alone. Others like Belkin, however, won't burden the customer with having to purchase another set of products. All they need is one.
Normally, your smartphone or tablet communicates directly with Wemo smart plugs or smart light switches directly through the router. The Wemo Bridge, however, will sit in between to translate those messages between a HomeKit-enabled devices, like an iPhone, and Wemo's smart home products. The Bridge itself has to connect to the router via an Ethernet cable, but that's pretty much all the setup you'll need.
What this means is that any existing Wemo device will instantly gain HomeKit support once the Bridge is installed. You don't have to throw those away and neither does Belkin have to make another set just to add HomeKit support. That might also mean that future switches, plugs, and cameras might still not have the feature built in, requiring the purchase of an additional accessory.
With the Bridge and Apple HomeKit support, Wemo practically connects with almost any smart home platform and assistant, from Amazon Alexa to Google Assistant to the Nest Learning Thermostat. And if that weren't enough, IFTTT support keeps the door open for other interesting applications. The Belkin Wemo Bridge launches this Fall, tough no price has been announced yet.