Belkin shows off F5U279 Easy Transfer Cable for Windows 7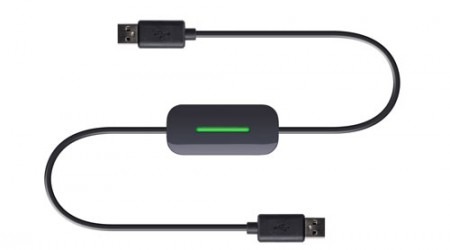 The wait for Windows 7 is almost over and those who have been anxiously anticipating the new OS hitting the market so they can upgrade from Windows XP or Vista may now be wondering exactly what the easiest way to upgrade their computers will be without losing their important data. Belkin has announced a new Easy Transfer Cable for Windows 7 that will make the transition easier.
The cable is set to hit the market in the U.S. on October 23 and it will make it across the pond to Europe and Asia in Q1 2010. The cable can be pre-ordered on Amazon now according to Belkin. The cable allows users to quickly and easily migrate music, photos, movies and other content to a new machine. The cable also supports the migration of user accounts, settings, and email contacts and messages.
The transfer cable needs only three steps including installing software connecting the cable, and following on-screen prompts. Belkin promises that transfers are faster than burning CDs or using the network for the transfer. The software included with the cable will also provide a post-migration report after the transfer to show files moved and files left behind. The cable is 8-feet long and support 32 and 64-bit Windows 7.