Belkin Network USB Hub - Wirelessly network any USB devices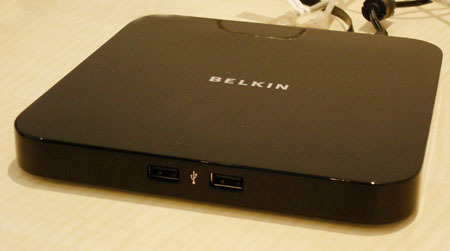 Do you have a few devices that you like to have situated across the room from your PC? If so, you've likely found it difficult to connect them to your PC without stringing long cables. Belkin has finally released their solution tot this issue.
You can now purchase a Belkin Network USB Hub into which you can plug your various USB devices. The hub then transmits the data back to your computer wirelessly and makes it believe that your devices are plugged in directly.
Don't get too excited about making huge file transfers with this gadget. While it's fast enough to keep up with most devices you plug in, you're probably going to want to save large file transfers for when the device is plugged directly into your PC. These are on store shelves now and will set you back $160.
Belkin Ships Its Network USB Wi-Fi Hub [via pcworld]