Belkin Conserve saves power and prevents surges from damaging your electronics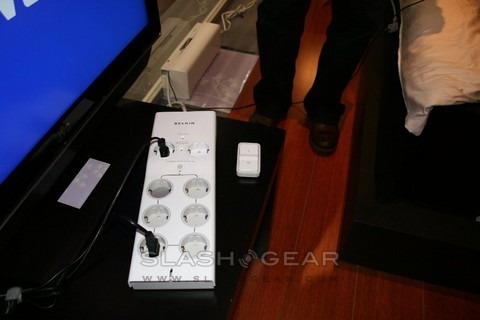 There are a total of 8 outlets on this surge protector. The two that aren't included in the outlined box are the only two "always-on" outlets on the strip.
All of the other outlets are controlled by a wireless power switch allowing you to eliminate the phantom power consumed by a lot of today's gadgets that never really shut off. That means you could use this to turn off your monitor, speakers, external hard drives, computer, and printer, but leave your modem and router on for the other users that want to connect.
Or you could use it to turn off all your home theater components leaving on only your cable box and TiVo so your shows still record but the large amount of phantom power your large LCD TV steals won't be lost anymore. The uses are nearly endless, and the best part is the switch isn't some little keychain remote that you are likely to lose, it's a fairly large, mountable, switch that looks fashionable and would actually be kind of hard to lose, no word on price or availability as its not out yet, but hopefully they start producing them soon.