Belkin Charge Dock charges iPhone and Apple Watch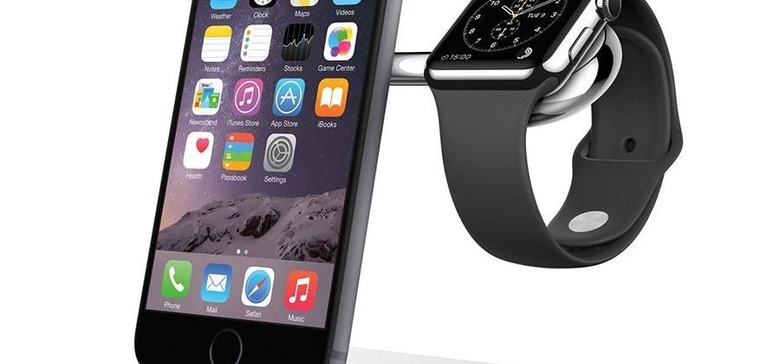 Belkin has unveiled a new Charge Dock for iPhone users that has a nice additional feature for users of the Apple Watch. The Charge Dock has provision to charge both the iPhone and the Apple Watch at the same time. That means you need only one charging solution for both of your prized Apple gadgets. The dock will charge an iPhone even if it is in a case.
On the back of the Charge dock is a dial that lowers and raises the Lightning connector allowing charging with a variety of cases installed. A metal arm sticking out from behind the charging iPhone holds the Apple Watch at an angle that makes it easy to see while charging.
The watch charging portion has an integrated magnetic charger for the Apple Watch and is made to elevate the watch above the surface. The Charge dock has a minimalist style and a 4.9-foot cable for charging. The charge arm is metal with a chrome finish and the metal base has a silver finish.
Belkin says that this is the only charge dock that is made for Apple Watch. It will work with the iPhone 6 Plus, iPhone 6, iPhone 5s, iPhone 5c, iPhone 5, and all versions of the Apple Watch. The base is covered with a non-slip and non-scratch material. Belkin is shipping the Charge Dock for Apple Watch + iPhone for $129.99 now.
SOURCE: Belkin