Belkin announces night vision NetCam Wi-Fi camera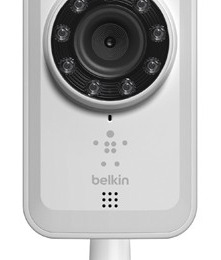 Whether you like to keep an eye on things when you're not home or you enjoy peeking around in the darkness, Belkin's new NetCam Wi-Fi Camera with Night Vision lets users watch what is going on via an Android or iOS smartphone or tablet. The NetCam Wi-Fi camera has a night vision mode, hence its name, allowing users to see in low-light and dark settings. The camera is available now.
The NetCam Wi-Fi with Night Vision uses infrared lights to provide night vision, and can work in no-light settings. The camera is equipped with a wide-angle lens for more viewing range. Video can be viewed on an Android or iOS smartphone or tablet and saved to the mobile device for later use. The camera has a microphone for audio.
Said Belkin's senior director of product management for the Belkin networking group, Mike Chen, "The beauty of the Belkin NetCam is its simplicity and versatility. It allows you to keep an eye on your pets, your kids after school, your belongings, or even your baby's room, on any iOS or Android device without the need for a computer. It sets up in minutes, giving you peace of mind without any hassle."
The NetCam from Belkin costs $129.99, and is available now directly from Belkin, and from Amazon.com. The camera will be released in Walmart and Verizon next month, and in Target stores in December. The accompanying NetCam app for smartphones can be downloaded from the App Store and Google Play.