BBC hit with cyber attack pointing at Iranian involvement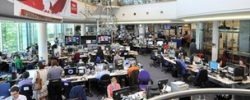 The BBC has announced that it was the target of a sophisticated cyber attack. That attack has somehow been linked to Iran in the country's efforts to harm BBC's Persian news service. The Internet attack was apparently launched along with an attempt to jam two BBC satellite feeds that come into Iran. BBC director general Mark Thompson has previously accused Iran of trying to intimidate workers at its Persian news branch.
BBC isn't the only news agency that's complained about attacks coming from Iran, Reporters Without Borders is also complained about the Iranian cyber Army reports BBC. Thompson also complained in February that Iran has repeatedly jammed international television stations including BBC Persian TV to prevent citizens from seeing news.
Apparently, the attackers even tried to disrupt the Persian service's phone lines based in London using multiple automatic calls. Thompson didn't go into detail on the attacks such as when they occurred and if the attacks were successful in stopping services. We do know is that some parts of the BBC lost access to e-mail and Internet services on March 1, which could've been the day of the cyber attacks.
[via BBC]