Basepro review: 4TB storage built into a dock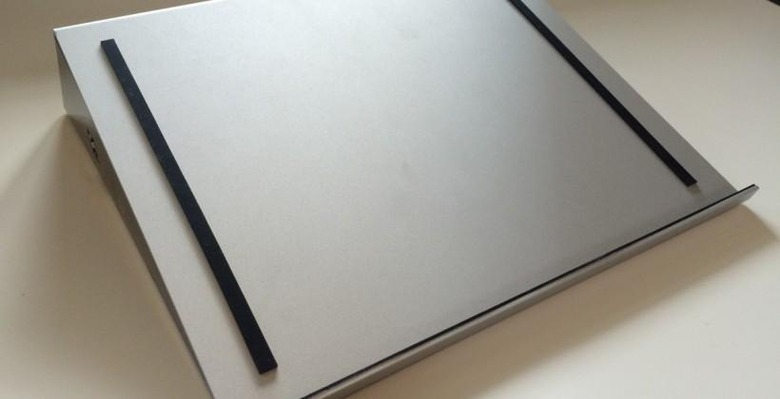 Docks and stands for your computer are easy to come by, and each offer a different take on the same thing. Get your computer off the ground, possibly displaying the screen, maybe even giving you a better ergonomically sound angle to type at. Basepro, currently being funded on IndieGoGo, is in that category, but packs a little something extra under the hood. With up to 4TB of storage under it's wedge frame (optional), Basepro is both local storage and a stand for your computer. To find out if it holds up while holding your computer up, we took it for a spin.
Hardware
Basepro is a bent aluminum frame shielding plastic sides, with some rubber feet and computer rests for stability. It's sleek enough, but the plastic is sadly cheaper than I was expecting. The metal is a welcome sight, and compliments a Macbook nicely, if you're worried about styling your desk properly.
Around the right side there are four USB ports, and each side has a USB 3.0 B-Type for connection to the storage.
That storage can be configured for up to 4TB, but you can also slap your own SATA drive in there, if you're so inclined. Should you want the BasePro sans hard drive, it's a mere $69. Not bad.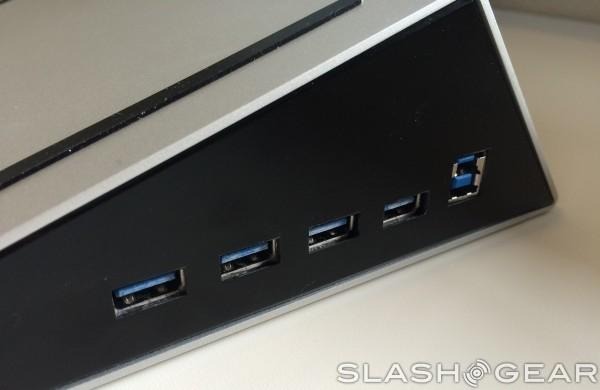 Use
Basepro is billed as a stand, but also an ergonomic masterpiece. The sales pitch is that your computer will be elevated as to encourage an ergonomically sound position when using your computer keyboard. In our trials, we couldn't get there. Basepro is not adjustable, so its static position just won't work for everyone, and definitely didn't work for us. It was either a pain in the wrists, or a pain in the elbows.
If you want a stand, though, Basepro is just fine. The rubber feet on the bottom of the stand and in the computer tray gripped effectively, surviving a significant bump to the table when I clumsily got up.
Sadly, we weren't able to test the read/write speeds for the drive, as we were sent a standard base unit.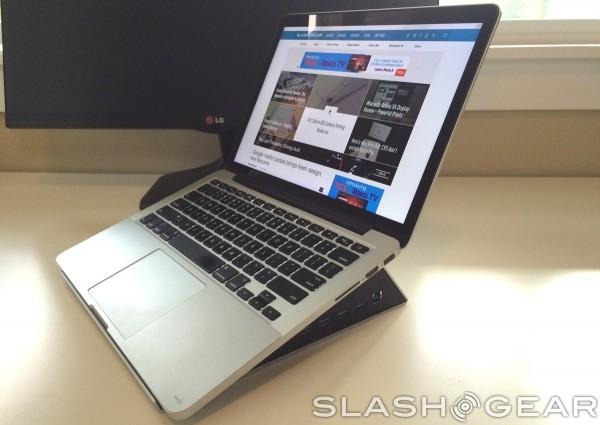 Worth it?
Basepro is using flexible funding via Indiegogo, so whatever you contribute, they're using. With just over two weeks to go, they're nowhere near their goal of $50,000. We suggest making sure you'll get a unit should they not reach that benchmark for crowdfunding success.
The base unit — without any memory built in, just the stand — is $69. A Basepro with 1TB storage is $119, and 2TB is $149. If you want a full 4TB storage, it's $229.
For a stand, it's attractively priced. As a stand plus memory, it's hard to argue that Basepro is not a deal. If you want an all-in-one, this is worth a hard look. If you like tinkering, and have your own memory you'd like to pack in, again — worth a look.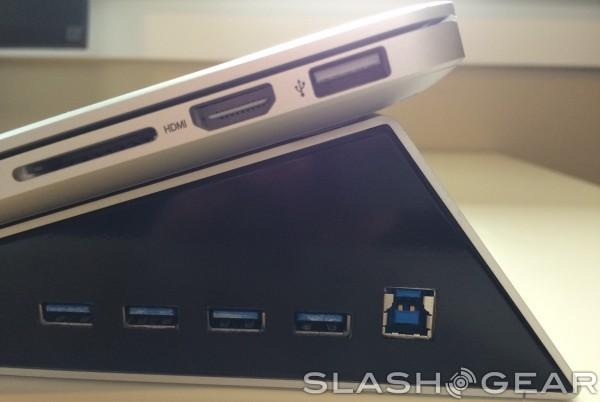 Basepro isn't the best built stand you'll find, though. While the aluminum frame is solid and reliable, the thin plastic sides are just plain terrible. Think of plexiglass, because that's what it feels like.
The IndieGoGo campaign offers a lot of use cases for Basepro, like an ergonimic stand, or as a travel companion. I'd suggest neither, though. Basepro is a bit heavy to tote around, and I didn't find it comfortable to type with when using my Macbook keyboard.
As a complimentary stand on the desk — especially one with memory built in — Basepro is pretty great. It's not the prettiest stand/dock/whatever-you-want-to-call-it around, but it gets the job done just as well.