Barrel Sauna - A Steamy Backyard Retreat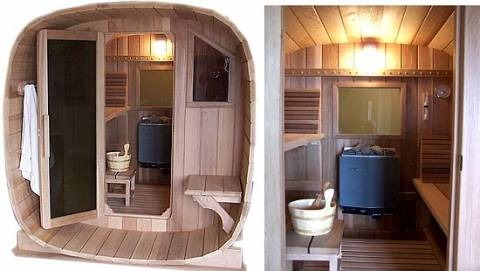 On my list of "Things I want when I make it big" you'll find 'Sauna' towards the top. There isn't much that's more refreshing than a steam bath, in my opinion.
Calloway Woodworks knows and understands this desire. They've got an Outdoor Barrel Sauna for around $4500-$6670. I don't think that's a bad price at all. I may even afford one before I make it big.
It comes preassembled in your choice of handcrafted Western Red Cedar or Redwood. It features interior lighting, temperature gauge, two wall air vents and TYLO or Amerec heater with rocks and controls. You could also opt for a front porch area with a bench for cooling down after your steam.
Outdoor Barrel Sauna with optional porch from Callaway Woodworks [via BornRich]