Barnes & Noble Galaxy Tab A NOOK launched: 7 inches, no S Pen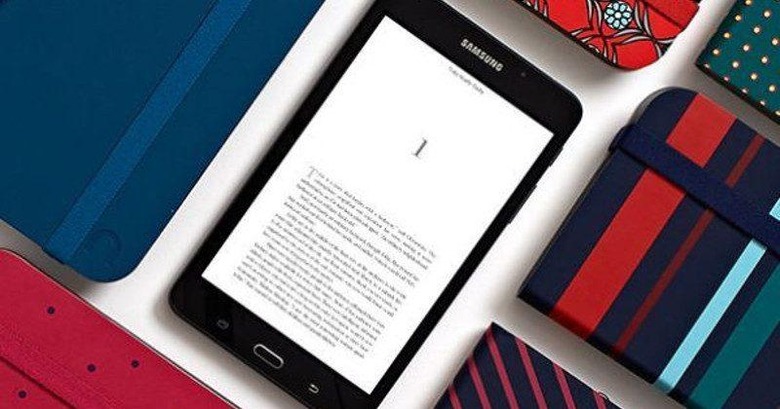 The venerable Barnes & Noble may have already thrown in the towel as far as its own NOOK-branded e-ink readers are concerned. Instead, it has partnered with Samsung to put out a NOOK by Samsung line of Android tablets that double as ebook readers as well, not unlike Amazon's Fire tablets, but, well, made by Samsung. The latest fruit of this partnership is a Galaxy Tab A NOOK, based on the more recent 7-inch model introduced by Samsung a few months ago. An entry-level, budget tablet by nature, what this tablet lacks in hardware features, it makes up for in the richness and diversity of content.
The Samsung Galaxy Tab A itself is unabashedly a low tier tablet, though not as low as Samsung's Galaxy Tab E line. It is, at least, powered by a Snapdragon 410 processor and has 1.5 GB of RAM. The 7-inch screen isn't worth writing home about but at least has 1280x800 pixels. The 8 GB of storage is dismal for a reading tablet and while B&N does try to sell the idea of a microSD card expansion, up to 200GB even, it doesn't actually sell a microSD card itself. And let's not talk about the 5 and 2 megapixel cameras, back and front, respectively.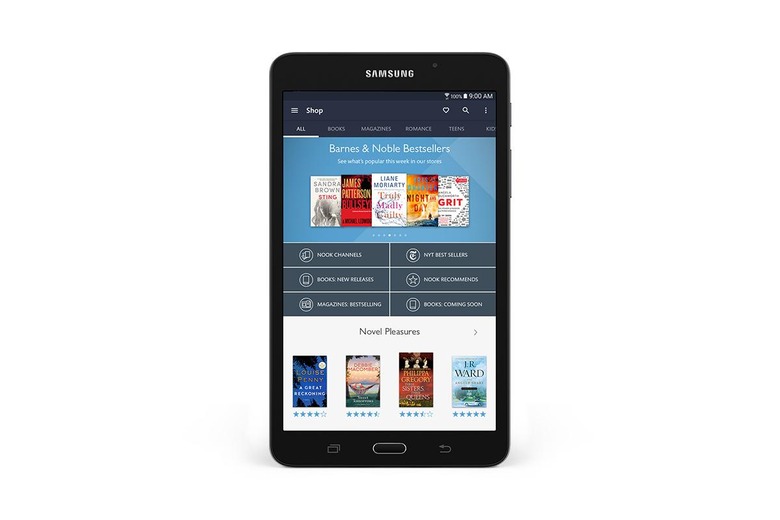 Of course, Barnes & Noble is less interested about selling its customers an Android tablet as it is in selling a portal to its vast library of content, both ebooks and audiobooks. So naturally, the Galaxy Tab A NOOK comes with B&N's flagship apps and features that lets users browse through, buy, and read from its catalog. That also includes its B&N Readouts, which offer daily excerpts for quick reading to whet users' appetites. There is also NOOK Profiles, which allows families to share the same tablet without having to share settings and content. Profiles also has parental control features to keep the young ones safe when using the tablet.
But the Galaxy Tab A NOOK is also a certified Android tablet, which means users also have access to the full catalog of the Google Play Store, taking the tablet from simple reading device to full on entertainment slate.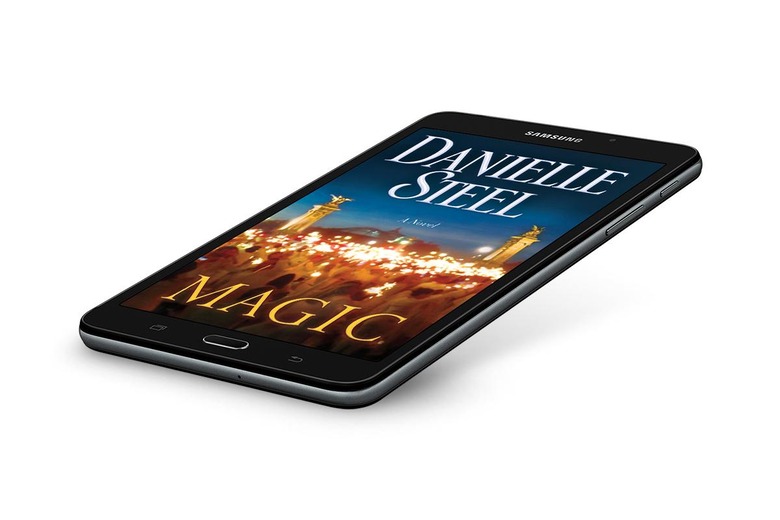 While the choice of the Galaxy Tab A 7.0 might have been based on economy, B&N might have missed an opportunity to carry the NOOK line to new grounds by eschewing the older Galaxy Tab A models, specifically the Galaxy Tab A 8.0 that comes with an S Pen. A stylus is almost the perfect companion for a book reader, though it would have probably bumped up the price a bit.
Barnes & Nobles is, after all, selling the Galaxy Tab A NOOK for only $139.99, even lower down to $99.99 for existing NOOK owners who trade in or show proof of purchase of any NOOK device. For a limited time, customers will also be given a free cover for the tablet, which B&N says normally costs $39.95. As icing on top, an update will be rolling out in September that will add NOOK Audiobooks to the tablet, giving access to 80,000 titles, including 9,500 free ones.