Banned Microsoft Xbox 360 consoles getting a reprieve?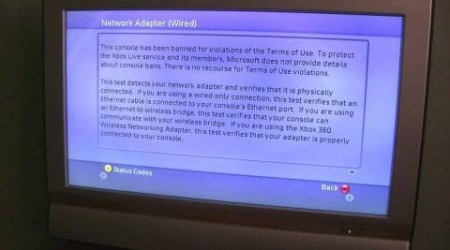 If you have been around SlashGear for a few years, you might recall back in 2007 when we first started to talk about Microsoft banning Xbox 360 consoles from the Xbox Live network for violating the terms of service with hacks of all sorts. The owners of those consoles would boot their machines up and when trying to access the Xbox Live network they would get messages similar to the lovely you see in the image below.
Apparently, some of the users of these banned consoles are seeing their machines regain some access to the Xbox Live network. The machines appear to still be very limited in what they can actually do. Briefly some banned users are reporting that they can re-connect to Xbox Live, but they are unable to play anything online or buy content, but they can apparently go one-step further than usual.
Whether or not this is some sort of new policy by Microsoft is unknown. Kotaku thinks that what we may be seeing is a change at Microsoft in preparation for its move to a new disc format that will render many of the copy protection hacks that users were banned for moot. Perhaps since the hacks these old consoles have are no longer effective Microsoft has chosen to allow the gamers back on. Microsoft has offered no official comment.
[via Kotaku]