Bank Of America Testing Mobile Wallet With NFC BlackBerry Smartphones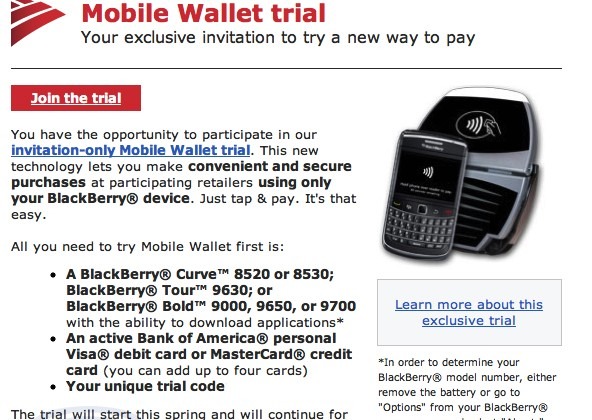 The time when you can pay for that Starbucks coffee with the swipe of your BlackBerry may very well be upon us. A source from BGR claims that Bank of America has begun testing out its new Mobile Wallet service that uses NFC technology for mobile payments.
The program has already begun inviting select customers for the trial. Only customers with BlackBerry smartphones will be able to test out the new service. A new battery cover and a microSD card is being sent out to testers to make their existing smartphones NFC-enabled. The following phones are supported: BlackBerry Curve 8520, 8530; BlackBerry Bold 9000, 9650, 9700; and BlackBerry Tour 9630.
Payments using the NFC-enabled BlackBerry phones can be made at any location that accepts Mastercard's PayPass. The trial program is scheduled to start this Spring.
[via BGR]