Bang & Olufsen DVD 2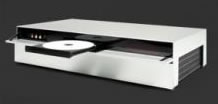 Bang & Olufsen are at it again with a new version of their DVD player. Once again, this isn't the most attractive DVD player, but its feature set makes it well worth it.
This DVD player provides near-MCE level functionality. It has a DVD player and recorder, a TV tuner/recorder, and an integrated HDD for storage of media.
You can use the Guide Plus+ TV guide that is included to schedule recordings and simultaneously play them back. No price, or really even a definite word whether it's been released yet, but generally when it comes to Bang & Olufsen, you better start saving now.
Bang and Olufsen DVD 2 high end DVD player and recorder [via newlaunches]