Baidu's self-driving car passes mixed road test with flying colors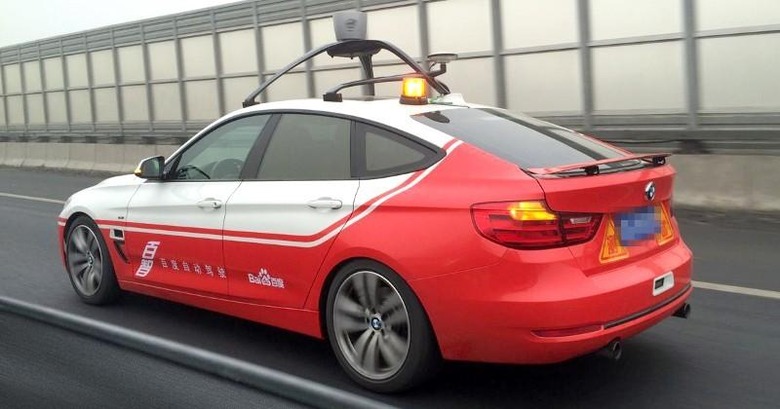 Most of the autonomous cars you read about these days come from Europe and the US, and at least one from Japan. China, of course, isn't going to take that sitting down. A year ago, Baidu and BMW forged a partnership to bring China's first self-driving to China's highways by 2015. 2015 is all but over but at least Baidu has made some significant progress as far as tests go. The Chinese Internet giant has proudly announced how its modified BMW 3 was put to the test, driving through mixed roads and under very trying conditions. And it was able to arrive at its destination without incident, showing promise for what could be China's first fully-capable autonomous car.
Baidu's approach to developing and testing its self-driving cars is a bit different from established conventions. Most cars of its kind these days are tested on varying levels of driving autonomy. Baidu, on the other hand, focuses on one at a time and tests it against different environments.
Case in point is this most recent and successful test. Baidu's car drove from and to its headquarters Zhongguancun Science Park in Haidian District in a loop that passed through the G7 Highway, Fifth Ring Road, and the Olympic Park. It made repeated runs under different and challenging conditions, which China's highways are known for, all while successfully making turns, changing lanes and decelerating when needed. The car's top speed was about 100 kph.
In terms of technology, Baidu boasts of highly automated driving maps or HAD that recorded data up to a few centimeters in accuracy of vehicle positioning. Its object recognition technology allows cars to detect, recognize, and even follow other vehicles.
Baidu's new timetable for timetable for its self-driving car hasn't been revealed yet. Although it has reached an important milestone, development of the car's "brains" is still ongoing and the company has not made public what further tests it has planned.