Back up files and stream media with Iomega's Home Media Network Hard Drive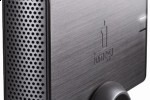 It seems that external hard drives are all the rage, these days.  Consumers love the ability to add more storage space by simply plugging a drive into a USB port or adding it to a network, and the portability factor doesn't hurt, either.  Many use these drives to store multimedia files, which makes this new drive from Iomega all the more interesting.
The drive should be available this month and will come in two flavors – a 500 GB version for $159.99 and a 1 TB version for $229.99.
[via Engadget]