Baby tries to use print mag like an iPad, is this the death of print mags?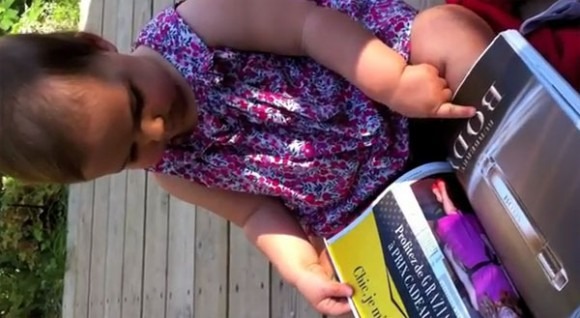 I have been saying for a long time now that my generation is the last of the old media users. I am raising my kids, the next generation of media consumers in a way that is completely different than my parents raised me. It's not that I am forcing my kids away from traditional print media, it's that they simply don't need a magazine and prefer something more interactive. It's the same for video, my kids don't need to be in front of the TV or a big screen, they will watch what they want when they want it on any screen that happens to be nearby whether it is a 3DS, smartphone, tablet, TV, or a computer.
This video is a perfect example of how tech is changing the children of today and that will have a massive impact on the future of traditional media. Children are growing up on tech that is easy, intuitive and they expect everything to be that way. Take this tiny baby working the iPad with her chubby little fingers. Sure, the video is adorable and cute, but it has some massive implications and illustrates my point that I think traditional media's days are numbered.
The baby tries to use the magazine handed to her like an iPad, finds it doesn't work and moves on. Even tiny tots expect interactivity it seems. What do you think, are the 20-30 somethings of today the last of the traditional media breed? Are you raising your kids on a diet of digital?
[via Gizmodo]