Baby Groot charger dances in your car's cupholder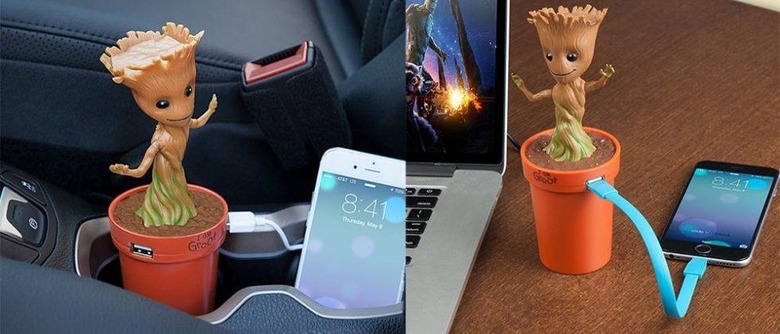 There's a new USB car charger out there, and it's entirely too cute for the road. ThinkGeek's new baby Groot charger is designed to fit in your car's cupholder where Groot dances while charging your phone or other small USB gadgets. The charger has two USB ports and can itself be plugged into your car's DC 12V port, and it outputs enough power to charge tablets as well as smartphones. The item is officially licensed and available now.
Baby Groot, of course, comes from Guardians of the Galaxy, and it quickly became a favorite. We've seen dancing Baby Groot toys since the movie's release, as well as some other Groot items, and this new car charger is no exception. The charger is shaped like a cup so that it can fit in most car cupholders, and it features two USB ports, one facing each front seat (or the front and back seats depending on how you rotate it).
Check out the video above to see the dancing in action — it's not wild or anything, so you don't have to worry about it being a distraction while driving. It is fun to look at, though, and will maybe keep a small child in the backseat entertained. Each USB port outputs 2.1A, making it suitable for tablets and other larger items.
Of course, Baby Groot isn't ThinkGeek's only car charger — there's that R2D2 car charger we saw not too long ago, which is largely the same in terms of functionality. This new Groot charger costs $39.99 USD and is available now (the R2D2 car charger also costs $39.99 USD in case that's more your taste).
SOURCE: ThinkGeek