Axiomtek eBox630-821-FL - world's most irrelevant name ever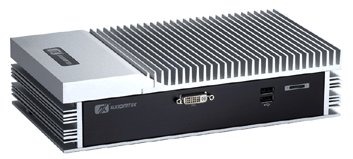 What deserves such a long and confusing title? Why nothing more than a new ruggedized compact Linux PC. It's targeted for automation, digital signage, or for in your car for navigation, media serving, web surfing, whatever.
It has two gigabit Ethernet jacks, four USB ports, four COM ports (what?), and what is supposedly high end A/V. It can take up to a 2GHz Intel Pentium M processor in its socket 478 slot, but you can have lower powered processors installed if you don't need that much power.

You get your choice of DVI or VGA on the backplane and then you can get an additional DVI port on the front of the box as well. The computer comes in an 11x5.9x2.7 inch industrial-grade aluminum/steel case that appears to also offer up passive cooling. With a drive installed it can withstand up to 1Grms or double that without and operating temps of 32-122 degrees Fahrenheit. You also get up to a gig of RAM, a 2.5-inch drive bay for HDD storage, and your choice of Linux, WinCE, or WinXP Embedded. It will be available by the end of this month for an as yet unknown price.
[via linuxdevices]