Your connected home is only complete if it's secure, and that starts at the front door. Though several cameras and motion sensors plan to tell you if something is going on, there's no better first step for security than a locked door. There's also nothing cooler than locking and unlocking your home from a phone, and the peace of mind you get from checking in on your front door from anywhere is comforting. Beautiful enough to reside in the Apple Store, we wanted to know if August was just a pretty face, or a home automation must-have.
Hardware
The August door lock is big — really big. Think of the last remnants of a duct tape roll, then hang it on your deadbolt at home. that's what you'll be replacing your lock with, so keep that in mind before you switch up your front door scheme.
Aluminum, the August lock doesn't feel cheap in any way. Under the outer shell (which you can get in a variety of colors), August houses sensors and other mechanical gadgetry to link to your phone and turn your locks. Around back, it's a more solid metal, giving users a sense of sturdiness.
The August Connect is nothing special on the hardware side; it's really just sensors attached to a power source, and a small button on the front. All plastic, it's about the size of the outlet it will be occupying. It doesn't need to be flashy, though.
Use
August can be used as a normal lock, which is handy for those times you just don't have your phone on you. Turn the outside tumbler, and it works exactly like the deadbolt you replaced.
The app is cleanly laid out and easy to navigate, and even has provisions for multiple locations should you have more than one lock that needs an August, which August calls your 'keychain' (clever). Once you tap on the location in question, the app attempts to create a Bluetooth link to your August, and away you go. A red dot means you're locked up, while a green circle means your door is unlocked.
A tap on the red dot or green circle either locks or unlocks your door. It really couldn't be simpler.
Installation & setup
While replacing a deadbolt assembly sounds daunting, August makes it really easy. You don't need to replace any of the internals of your door lock, and your outside-facing lock remains intact throughout the installation.
Once you snap your inside deadbolt lock off, it's a matter of finding the right plate to fit your assembly, and that's all you need the screwdriver for.
From there, August fits on via two wing clamps around back, and a plastic adapter for your deadbolt pin. Once it's on, you'll be asked to calibrate it by manually locking/unlocking the door, and then you're set. August even tells you which locks their system will work with, so there's no guess work or unnecessary returns to the store.
On the app side, setup is fairly lengthy. Once your app and lock pair, there's a pretty extensive setup process with more verification steps than it seems are necessary. Still, once it was all done (it took about 20 minutes of dedicated work), I had no disconnection issues, so I'll consider it all worth the hassle.
Connect
August Connect has one job to do, and that's keeping you informed from afar. Connect links to your August, but also to your home WiFi network, which the door lock itself doesn't do. So really, it's your link back to home when you're not around.
The benefit to Connect is that you can check on your lock, and lock or unlock it remotely. It also happens via the August app, so there's no secondary software to have.
Connect is great if you need to let someone in remotely, or for those times you've left home and wondered if you've locked the door. Now, you can just check back from anywhere.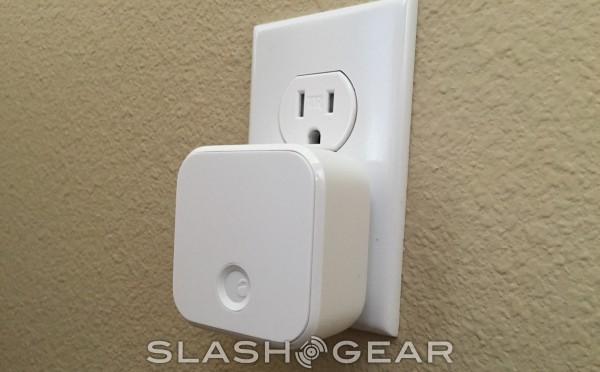 Benefits
First, you can give out eKeys to others, like friends or family. Those eKeys can be for a day, a week, a month — whatever you like. August lets you dole out an unlimited amount of passes, too, unlike rival Kwikset.
Those digital passes can even be recurring, which is nice if you have someone cleaning your home on a schedule or a similar situation.
Not fumbling with keys is also nice, and if you're fortunate enough to drive and park close enough to your door, you can even unlock your home before you get out of your vehicle. That's great in the cold of the Pacific Northwest.
If you lose your phone or it runs out of juice, remember — August is still a door lock. There's no digital requirement with August — it just gives you more than your standard door lock.
Built-in features like EverLock automatically lock your door after a period of time, so you once again don't have to be concerned if you've left your door unlocked. Just remember that August doesn't know if the door is open or closed, so EverLock might be a bad choice if the door was left open.
With Connect, you get access to Auto-Unlock, which knows when you're within 200 meters form your home, and prepares to unlock as you approach. When working seamlessly, Auto-Unlock leaves you totally hands-free; no taps on your screen whatsoever. [Update: August points out that the range is selectable between 200 and 5,000 meters, though not lower than that]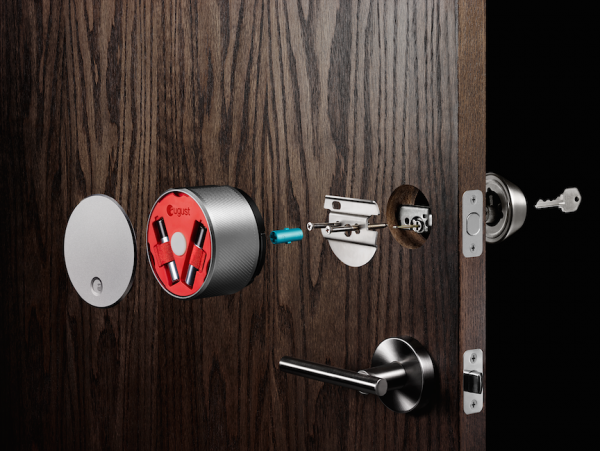 Drawbacks
First, August is much bigger than your standard lock. I got used to the visual gut-punch of August, but it's pretty sizable on the door.
If I had one major annoyance with August, it's that Bluetooth pairing isn't fast enough. Many times, I got out of my car ahead of unlocking my door or even opening the app. If it were unbearably cold or inclement, slipping a key in the door would have been much faster. It's as if the app and lock need to find each other anew each time the app is opened, and that really drags down on usability.
August is currently very iOS-centric, with features like EverLock and Auto-Unlock coming to Android at some point. EverLock is currently in beta for Android, but August has not publicly committed to when Auto-Unlock will be released for the platform.
Connect is really handy, but I'd like to have some granular control over Auto-Unlock. While I don't have much of an issue with 200 meters, if I lived on the third level of a walk-up in Chicago, I might want that 200 meters to be more like 20. Depending on your method of travel, 200 meters might take quite a while, leaving your home unguarded.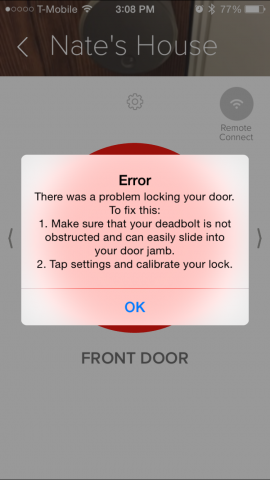 Wrap-Up
If you want a lock that is more convenient than your existing one, August is an easy recommendation. The ability to remotely lock and unlock your door — sometimes from halfway around the world if you needed to — is really convenient. Granting electronic passes, or eKeys, is also super handy for those who are equally technologically advanced (those digital passes require the August app, naturally).
I'll point out one glaring issue that I suspect has a fix on the horizon: August has no platform home. The lock itself works with SmartThings and Harmony, but in a limited way. Other platforms, like Nest or HomeKit, require WiFi. To that, I hope Connect is August's answer, because platforms are now much more important than hardware when it comes to the Internet of Things.
For $250, August is no impulse buy. The $50 Connect isn't, either, and the duo make for a $300 front door assembly. For what you get, I wouldn't recommend you rush out and replace your perfectly good lock with an August.
If you're in the market for a door lock, especially a smart one, August is one of the best we've seen at bridging the gap between smart and dumb locks (and ostensibly, the tech savvy and not-so-tech-friendly in your home). I really enjoy the in-app locking and unlocking, and doling out digital passes is handy. Should August latch onto a major platform in a significant way via Connect, it's teetering on 'instabuy' status for me.
August can be found just about everywhere, while their Connect plug-in is now up for pre-order via the August website.