Audiovox Car Connection Telematics device available at retail now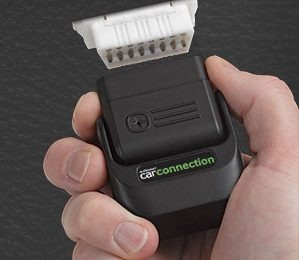 Audiovox Electronics Corporation has announced that its new Car Connection telematics device is now available in retail stores around the country. The Car Connection is a small dongle that plugs into the vehicle OBD2 port and allows drivers to monitor, manage, and maintain vehicle health and numerous other things.
The Car Connection device allows the user to keep an eye on vehicle health, driving habits, location, and even offers the ability to restrict cell phone usage while driving. The Car Connection device uses the Sprint wireless network in the US and offers real-time monitoring capability through OmniLink. The Car Connection device will roll out to retailers across the country during Q4 2012.
The device is designed to use an interface that is accessible from laptops, tablets, or smartphones allowing the monitoring of driving habits and vehicle location. The system allows drivers and parents to set up Safety Zones using geo-fences to monitor where teenage drivers are and to assist in stolen vehicle recovery.
The device also has a Lot Spot feature that helps you find your vehicle in a crowded parking lot. The device requires a service plan with one option at $9.95 per month plus a $19.95 one-time activation fee. The yearly plan is also available and $89.95 per year with the same $19.95 activation fee. The device can limit cell phone use as far as voice calls while the vehicle is operating, and it can also eliminate the driver's ability to text from behind the wheel. The Car Connection will cost $169.99.