AudioBox.fm streaming media aggregator upgraded for iOS 7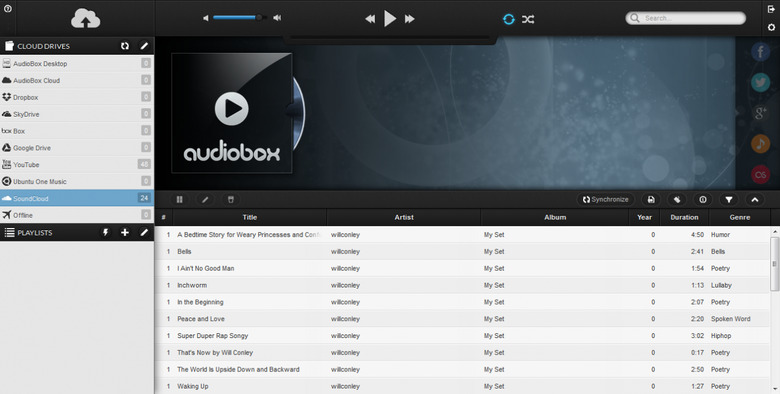 AudioBox.fm, the streaming media aggregator that combines SkyDrive, Box, Dropbox, Google Drive, and other streaming media services under one roof–along with the files on your hard drive and those you upload to the AudioBox cloud–has been rebuilt from the ground up for iOS 7. The app includes some new ways to stream your music from multiple sources in addition to deeper integration with the new iOS Control Center. The company is also working on an API that lets developers build their own interface on top of AudioBox's underlying streaming technology.
The AudioBox service relies on a variety of new technologies in the cloud space including a "Unified Library" that can access an unlimited number of files wherever they're stored. Sync AudioBox with your SkyDrive, Box, Dropbox, Google Drive, Ubuntu One Music Store, SoundCloud and YouTube accounts, and you can play your tracks from inside the AudioBox interface either in a desktop browser or through the iOS or Android app.
The AudioBox cloud service, which acts as another streaming media source alongside the ready-made third-party sources, is unique in that it doesn't compress or parse your files in any way. It sends your files as-is to whatever device you're listening with. This should make digital music purists happy: services like iTunes and Google Music generally read your music library and send you their own versions of those files. You can also stream your local files directly to any device by installing the AudioBox desktop app and leaving your computer running as a server.
Playlist creation is possible through the Web interface but not yet through the mobile apps, although the company is working on a solution for that. Drag and drop tracks into a playlist or filter for meta data like artist, genre, year, or keyword to automatically create a smart playlist. You can also share your tracks via Twitter, Facebook, and other networks. We'd like to see a "Shuffle Everything" feature in the future.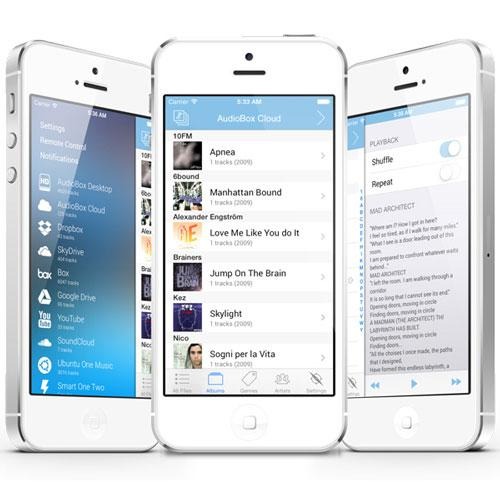 AudioBox competes, in a way, with iTunes, Google Music, and even Grooveshark and Spotify, but it doesn't offer music purchases. Rather it acts as a music locker that lets you manage all of your own music wherever it lives to wherever you want it to go. In addition to the still-under-development API, AudioBox intends to translate the consumer version for large-scale businesses like restaurant chains, mega retailers, hotels, and the like. Businesses will be able to create and manage legally owned playlists and pump them to any location or "node."
The app is free in the App Store and Google Play, as is integration with the third-party services, but the AudioBox cloud service is for the hardcore audiophile. Prices range from 99 cents to $20 a month for 5 to 200 GB of storage, respectively. There is no bandwidth fee.
SOURCE: AudioBox.fm