Audi V2I toll payment tech integration arrives in select models this year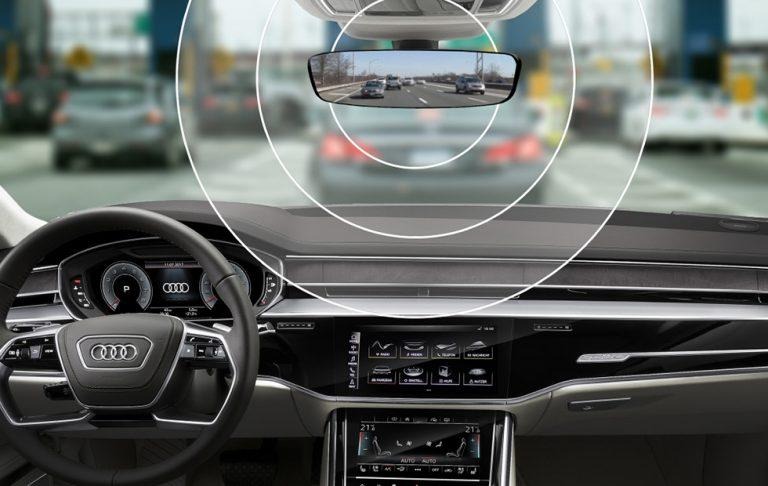 Audi has announced in-vehicle toll tech that'll make commuting easier for frequent travelers. The automaker will be the first to offer vehicle-integrated toll payment tech, which will be available in certain models starting later this year. The system will be compatible with tolls in the US, Mexico, and Canada, enabling drivers to automatically pay for tolls anywhere in North America.
The new ability is delivered via an Integrated Toll Module (ITM), a toll transponder that Audi will build into the rearview mirror in select upcoming models. This is an expansion of the automaker's vehicle-to-infrastructure tech, also known as V2I.
The system is designed to make life easier. When driving, the ITM will give the driver access to toll roads throughout the country, as well as parts of Canada and Mexico. There's no need to manage multiple accounts for toll access, nor are there any toll-related devices attached to the windshield getting in the way or ruining the vehicle's aesthetic.
Audi will give drivers access to the toll tech via the vehicle's MMI operating system. The control ability will include an option to enable or disable the ITM, as well as switching the occupant settings for HOT and HOV lane purposes.
The automaker explains that the vehicles' ITM can be registered with nationwide tolling accounts, new accounts, or existing accounts. The system is compatible with all of the existing tolling agencies in the United States. The hardware itself was made by the same company that makes Audi's auto-dimming mirrors, Gentex Corporation.
SOURCE: Audi