Audi to race hybrid R18 prototypes in 2012 Le Mans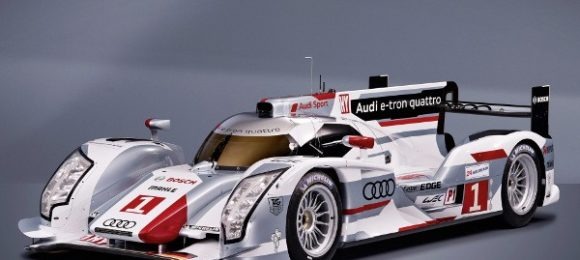 Audi will be entering two super hybrid racecars into the 24-hour Le Mans endurance challenge this year. The first is the Audi R18 e-tron quattro, a four-wheel drive diesel hybrid, and the other is the Audi R18 ultra, which uses a super lightweight design to accommodate a heavier hybrid drive train. Both were developed in parallel in only 18 months, a relatively short period of time for a technology that's never been tested before in motorsports and still doesn't exist in production.
The Audi R18 e-tron quattro will debut first at a 6-hour Spa-Francorchamps race on May 5 before heading to the Le Mans on June 16 through 17. It features a next-gen four-wheel drive in which one axle is powered by a conventional 510 horsepower V6 TDI engine, while the other is powered by an electric motor. Kinetic energy is recovered from the front axle during braking and is fed as electricity into a flywheel accumulator before being retrieved when accelerating above 75mph.
As for the twin brother, the Audi R18 ultra, it will be the lightest Le Mans prototype that Audi has ever built. To compensate for the additional weight of the hybrid system, Audi developed the R18 ultra with super lightweight design and construction, including a new transmission with a carbon-fiber composite housing.
[via Engadget]