Audi S8 offers Bi-turbo 4.0L V8 with 571hp and 590 lb-ft torque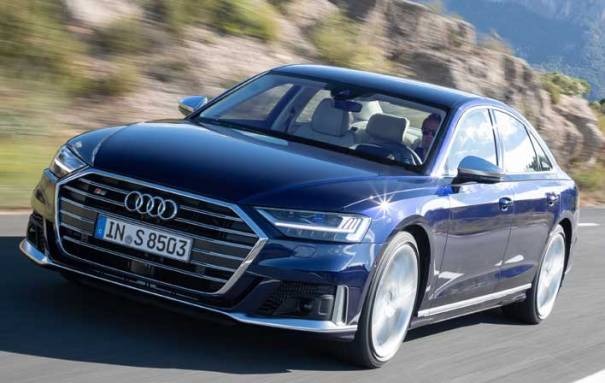 Audi has a new version of the venerable S8 to woo luxury performance buyers with. The car is the new Audi S8, and its heart is a Biturbo V8. That V8 engine makes 571 hp and 590 pound-ft of torque and offers up to 20.8 mpg. Audi fitted the V8 with mild-hybrid technology.
The top speed for the S8 is limited to 155.3 mph, and the car can reach 62.1 mph from a stop in 3.8 seconds. The car also has automatically actuated flaps in the exhaust system for improved sound. The mild-hybrid system uses a 48V belt alternator starter and an additional lithium-ion battery to enable coasting with the engine switched off.
The system has a fast restart and an extended start-stop range. The system helps to save up to 0.8L per 100 km in everyday driving. A cylinder on-demand system deactivated individual sensors in low-load operations, improving efficiency further. Audi fits the car with active noise cancellation to eliminate intrusive cabin noise.
S8 comes with predictive active suspension as standard. The system works in combination with air suspension and can lift or push down each wheel separately via electromechanical actuators. This allows it to actively control the trim of the body in any driving situation and reduce pitch and roll in braking and acceleration. The drive select system has five modes.
One of those modes is the Comfort + mode that is a new profile. That mode makes cornering more comfortable by leaning into corners to make the ride more comfortable for the passengers. The car also features dynamic mode, among others, and has dynamic-all-wheel steering and a sport differential. The Audi S8 also has 38 safety and driver assistance systems between the City and tour packages.