Audi 24 Hours of Le Forza Is Your Digital Le Mans Videogame Challenge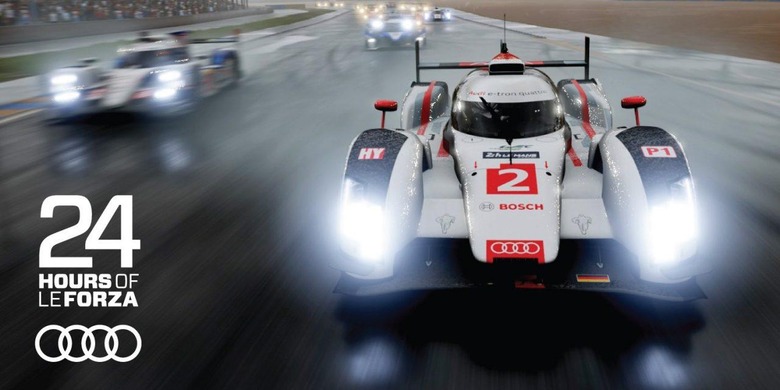 24 hour gaming marathons aren't just restricted to teenage LAN parties fueled by Tab and Slim Jims. Audi has decided to pit professional gamers against each other in the ultimate digital endurance test: replicating the 24 Hours of Le Mans in video game form as the 'Audi 24 Hours of Le Forza.'
The setup is simple, but the challenge certainly isn't. Audi is using the Twitch online gaming streaming site to organize the event in which 12 pro teams will square off against a talented group of fans who made it to the finals of Audi's 24 Hours of Le Forza contest. The actual location of the site is San Francisco, where various Audi racing personnel and brand ambassadors will host the event (which is viewable at https://www.twitch.tv/audiusaofficial). If you want to cheer your favorite team on to victory, you can do so by way of the Twitch chat feature, which connects viewers to each of the racing teams as well as the hosts during the weekend.
There are a few fun twists associated with the 24 Hours of Le Forza that set it apart from other endurance gaming contests. In order to keep things as close as possible to actual Le Mans competition, participants will be wearing not just helmets, but also full racing suits. They will also be facing weather conditions that match up with what actual Le Mans drivers will be dealing with throughout the weekend, and driving cars that match up with the LMP1 class of sports car racers that take to the actual track in France.
Winners get a trip to Sonoma, California, where Audi hosts its sports car testing and experience center in the United States, while other prizes include attending the Lone Star Le Mans race next year in Austin, Texas, and of course an Xbox One.