AT&T Will Fix Cracked Screens On Some Smartphones, Here's How It Works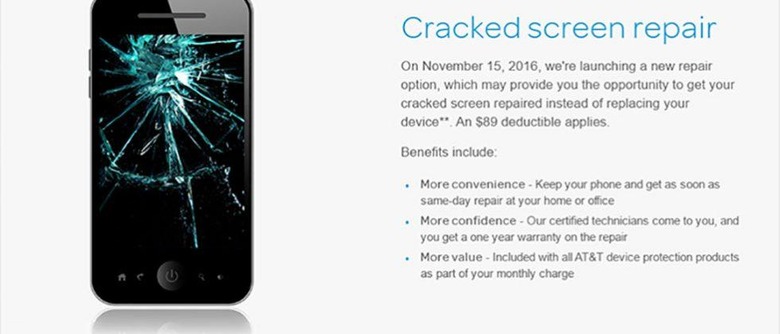 It always seems like the littlest bumps are the ones that leave the screen on your smartphone cracked. After you crack your screen the challenge is to find a place that can repair the screen of your device without messing things up worse. I know several people who have had so-called repair services fix their phone only to have a screen with no cracks and issues with touch not working afterwards. AT&T has a new service that will fix the screen of some iPhone and Android devices.
The repair service will start on November 15 and will repair your device through AT&T. The repair service is offered to anyone with a qualifying device and Mobile Insurance, Mobile Protection Pack, Mobile Protection Pack for Business, or Multi-Device Protection Pack. All of those insurance services will cover cracked screen repairs after a $89 deductible is paid.
Under the plan a service tech from Asurion will come to you and fix your device wherever you are. The repairs are covered by a 12-month warranty so if your touch functionality stops working, you are covered. Repairs can be made the same day you turn in a claim with AT&T, assuming the Asurion technician is available and you get your claim in by 2pm local time. The new repair service is available only for select devices for now.
These devices include the Galaxy Note 4, Galaxy S5, Galaxy S6, iPhone 6, iPhone 6 Plus, iPhone 6SS, iPhone 6S Plus, and iPhone SE. The latest generation of the Galaxy family, the Galaxy S7, isn't covered by the service. Only certain colors of the devices are covered as well, but it's not clear which colors exactly aren't covered. The repair service is initially available in 15 cities only and on December 1 it will expand to 29 additional cities. You can see the full list of cities where the screen replacement service is offered here. Being able to get your screen repaired rather than having to replace your device is a good thing for many people, you won't have to deal with setting a new device up. Another caveat is that the service tech can use refurbished parts or non-original parts in the repair.
SOURCE: Android Police